Although plain deviled eggs make a great snack and fit perfectly into any low carb or keto diet, there is always room for improvement. Take your deviled eggs to the next level by utilizing them to prepare delivered egg sliders with a variety of fillings!
Not Your Normal Deviled Eggs
Deviled eggs need not be boring. This classic protein staple can be transformed by changing up the filling and using fun toppings like in this bacon and guacamole deviled egg recipe or take it a step further and make mini deviled egg sliders by slicing the eggs in half and using them as the 'bread'.
Although we choose to make this a quick recipe by filling the egg sliders and calling it a day to save time, you can remove the yolks and prepare a classic deviled egg filling and make the sliders as well! We built these sliders using some simple ingredients such as raw bell pepper, feta, arugula, and avocado but the combinations are endless.
Nutrition Per 2 Keto Deviled Egg Sliders: 230 Calories, 17 grams fat, 3 grams carbohydrates, 16 grams protein.
Here are a few other versions you can easily prepare:
Keto BLT Egg Sliders: cooked bacon, baby romaine lettuce, whole-grain mustard, sliced fresh tomato, and mayonnaise.
Bacon, Egg, and Cheese: cooked bacon, cheddar cheese, lime juice, avocado slices, black pepper
The New York Everything: lox, sliced red onion, baby romaine lettuce, cream cheese, capers, and everything bagel seasoning
Want to make this recipe less than 5 minutes? Cut out all the egg prep time, with Trifecta a la carte hard-boiled eggs.
How to Conquer Your Keto Diet
Whatever your reason for trying or continuing your keto diet, understanding how to count your macros will help you conquer your goals. Although you can use a nutrition app to help you maintain a closer look at your nutrition intake, just having an idea of what foods to eat and appropriate portion sizing can be enough to keep you on track and feeling good.
Because keto is a macro-based diet, technically no foods are excluded - it just depends on how much you eat - specifically carbs!
Use this simple keto carb calculator below to get your recommended keto carb intake based on your unique health and fitness goals.
Once you have an estimate of how much you should be eating per day, you can break that down into specific foods and portion sizes.
Here are some further resources to support you in your wellness journey:
How to Prepare Your Keto Deviled Eggs
Prep Time: 10 minutes
Cook Time: 15 minutes
Servings: 4

Ingredients
8 each egg, hardboiled
1 bell pepper, sliced into 1x1 inch slices
2 ounces feta, cut into small cubes
1/2 avocado, sliced into slices
1 tablespoon lemon juice
2 tablespoons chives
Toothpicks
Kitchen Needs
Knife and cutting board
Medium pot and strainer
Storage container for finished egg sliders
Step One: Hard Boil Eggs
The base of this recipe is hard-boiled eggs, which you can easily make at home or use Trifecta Hard-boiled eggs.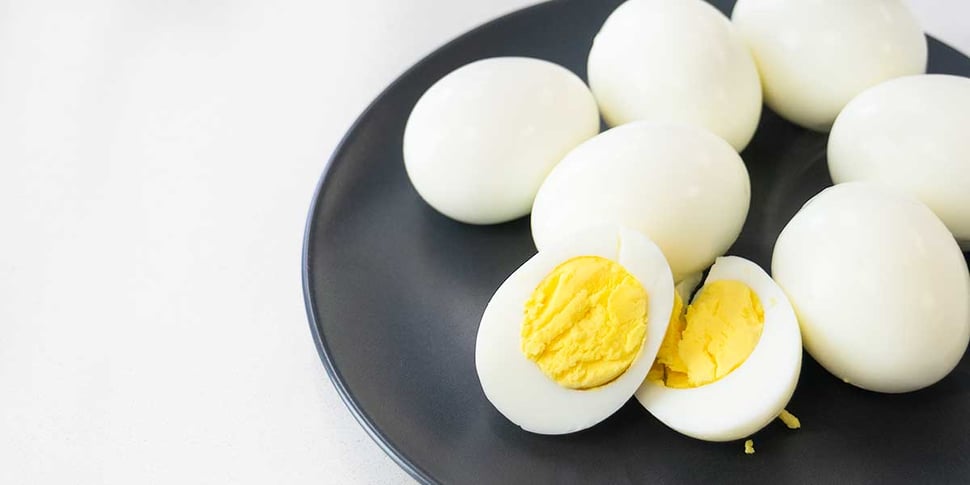 If you've ever tried to hard boil an egg, you know that timing and temperature are everything. The last thing you want is an undercooked egg or a green yolk. So here, are some quick tips to perfect your egg game.
You can cook eggs in various ways including: in the oven, in the microwave, or in a pot of boiling water. Whatever way you choose to cook your eggs, place the eggs in a bowl of ice water immediately after cooking. This will stop the cooking process and help keep the yolks from turning green.
Hard-boiled eggs in the oven: Preheat your oven to 350 degrees Fahrenheit. Place individuals eggs in a muffin tin to keep them from rolling around. Bake for 25 minutes, then immediately place cooked eggs in a large bowl filled with ice water to cool.
Hard-boiled eggs in the microwave: Place eggs in a microwave-safe bowl and cover with water. Microwave on high for 6 to 8 minutes, immediately place cooked eggs in a large bowl filled with ice water to cool.
Classic hard-boiled eggs in a pot: Place eggs in a large saucepan and cover with 1 inch of cold water. Bring water to a boil, and simmer for 12 minutes. Drain the eggs from the hot water and immerse them into a bowl of ice water to cool them rapidly and stop the cooking process. I recommend peeling them while they are in the cooling water as this can help make the process of removing the shell easier!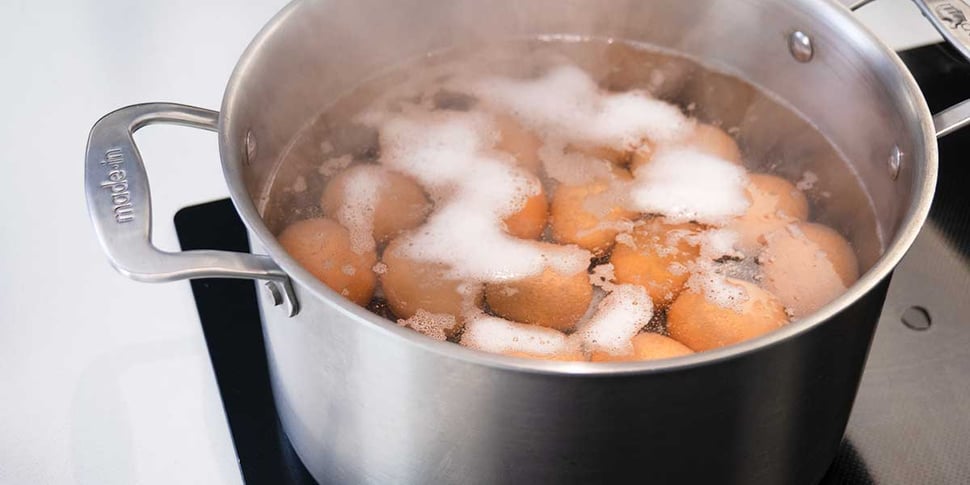 Step Two: Prepare Ingredients for Filling
Once you have your hard-boiled eggs prepared, you can gather the rest of your ingredients.
If you've opted to remove the yolks and take this recipe a step further by preparing the yolks as a filling vs simply cutting the eggs in half, feel free to complete this step now.
Measure out any other ingredients you decided to prepare your keto egg sliders with.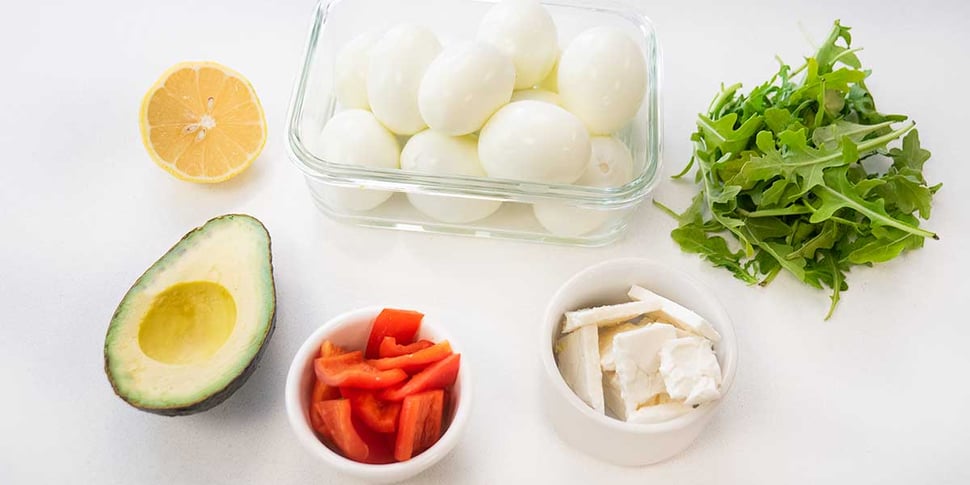 Step Three: Prepare Egg Bites
Next up, layer on your slider filling on one half of the egg then secure the top half with a toothpick, and bam! A delicious and simple keto-deviled egg slider ready to enjoy, squeeze a bit of lemon juice over each bite, and top with chives to finish.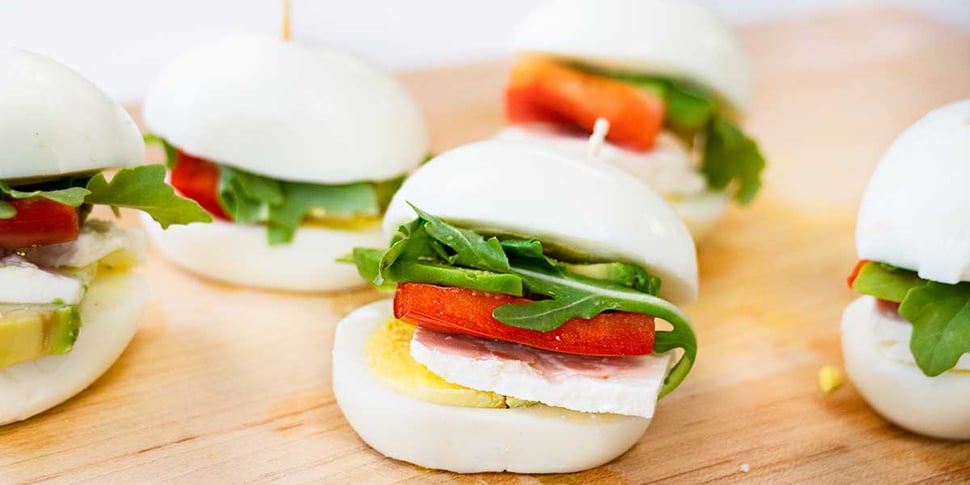 Storing and Serving
These keto-deviled egg sliders will last up to 5 days in the fridge but are best enjoyed fresh.
Keto-deviled egg sliders are super functional and can work incredibly well as your breakfast, a mid-day snack, or as supplemental protein for your lunch. Check out these healthy high-fat sauces you can dress these up with!
---
Skip the Prep and Get Healthy Meals Delivered
Want to make sure you stick to your low-carb diet goals?
Get ready to eat low-carb meal plans like keto or paleo delivered right to your door. Enjoy keto meals with less than 10 grams of total net carbs per dish, or high protein paleo meals made with healthy whole foods.