From TV to Trifecta
We're excited to announce celebrity chef and 20-year culinary veteran Scott Leibfried has joined the Trifecta squad!
You may recognize him as Gordon Ramsay's fierce sous chef on the long-running Hell's Kitchen series. But around the Trifecta office we know him as chef Scott—executive chef in charge of recipe development and innovation.
With over 20 years of experience, Scott has led kitchens at high-end restaurants and advised and launched several others.

So what's that mean for you? If you're on the Clean, Paleo, Vegan or Vegetarian plan, you can look for chef Scott's exclusive recipes every week, combining classic techniques with healthy and exciting ingredients and flavors.
We sat down with him recently to get the scoop on what inspires him, what drew him to Trifecta, and what he cooks when he's at home (spoiler: pool-friendly snacks top the list). Check out our conversation below.
All About Macros
Q: All the recipes you create for Trifecta stay within certain macros—is that different from how you usually create recipes?
A: There was a learning curve, but I actually knew about macros prior to joining Trifecta. To me, it's just another way of using balance in cooking, which is what I've ironically always strived for.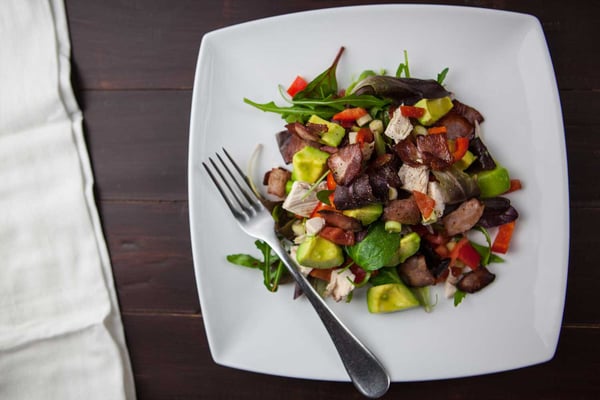 For any kind of professional or home cooking, you need to understand that there has to be a balance between all the factors, whether it's sauce, cream, fat, protein, etc. So cooking based on macros is really no different. You're just asking yourself a different set of questions to get to the same goal.
Q: How hard is it to create good tasting food that also meets specific dietary needs?
A: Dietary restrictions don't change over time—I've always encountered them and always will. It's how you cater to those needs where you can get creative.
I look at sodium as a perfect example. It's something that enhances flavor and it's included in just about any recipe you can think of. Imagine if instead of salt you did a low sodium soy sauce that's also gluten free—in one ingredient you're accommodating two groups of people: those with a gluten allergy and those who want to reduce their sodium intake.
Q: What tricks do you use to keep down unhealthy stuff like added fat?
A: It's all about using what's around you, using what's available and using what's fresh. A great ingredient that doesn't add calories but adds a ton of flavor and freshness is Meyer lemon.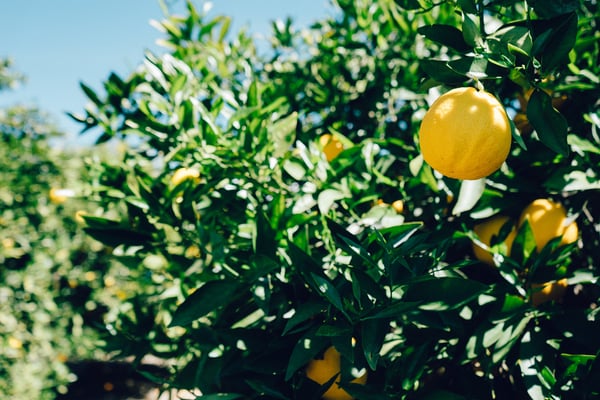 I'm lucky to live in LA where I have a Meyer lemon tree in my backyard. At any time, I have Meyer lemon simple syrup in the fridge, Meyer lemon pesto in the freezer. I use it year round.
And, side note, something that doesn't always get a lot of credit is citrus zest. You get the beautiful perfume of the fruit without the acid.
Trifecta Recipes
Q: How do you think of recipes? Where do you draw inspiration from?
A: I believe there's inspiration everywhere: in your surroundings, things you come across naturally in your day, driving down the street, walking down the aisles of the grocery store—reminding yourself things do change throughout the year.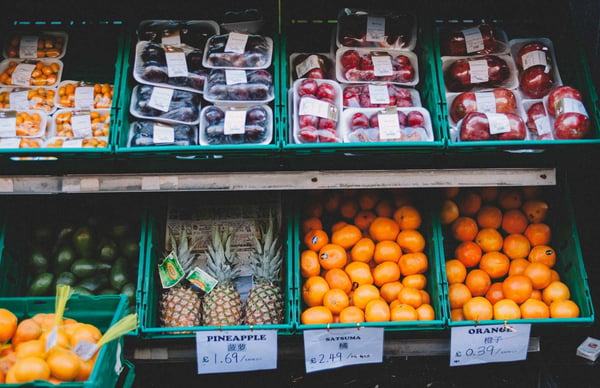 Like eating purple asparagus or seeing Copper River salmon for the first time in the year. You know those things exist but you forget about them.
It's like Christmas: you know it's coming, but you don't think about it until it's there. And all of sudden you're reminded how magical it is.
Q: What makes your work with Trifecta different from creating recipes for restaurants?
A: Creating recipes for Trifecta is similar to doing it for a restaurant; there's just one more element to consider, which is the health aspect. Whether it's Paleo or another requirement, you need to decide where to draw acid, fat, richness from.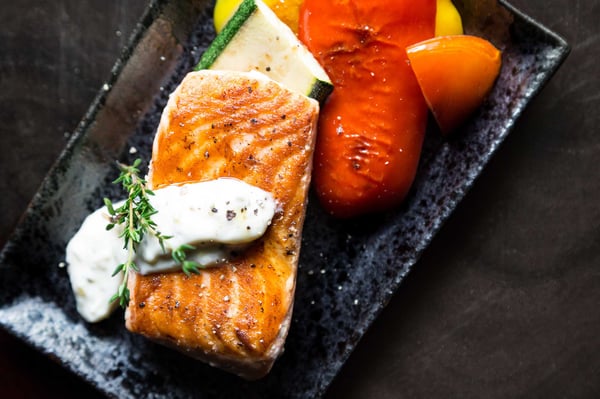 Generally in professional cooking, you're still striving for excellent results, which is what we're doing here, it's just not through the lens of specific health needs.
It comes down to using different ingredients to achieve the same goal. And never allowing that process to hinder taste. If someone doesn't eat grains, replace the rice for another carbohydrate that's just as tasty, maybe with a similar texture.
In a restaurant, you never want someone with a dietary need to feel like they're different or missing out, and the same applies here with Trifecta.
Q: As you know, Trifecta uses only grass-fed beef and cage-free poultry. Do you find there's a difference in how that type of meat cooks or tastes?
A: There's absolutely a difference in how it tastes and cooks. Grass-fed beef has less fat than conventional meat, so it cooks a little bit faster and maybe a little bit drier.
When you're cooking it at home, it's great to add a splash of EVOO or warm lemon while the pores are open.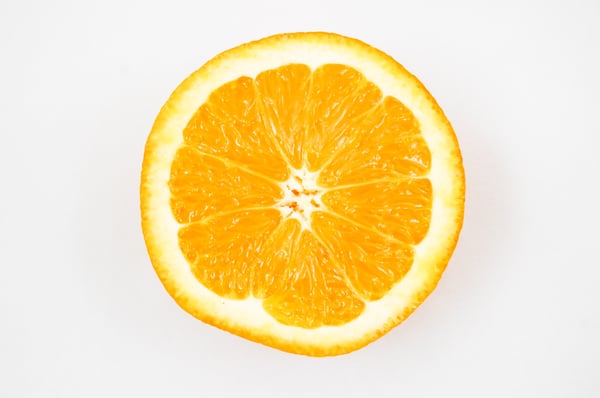 Cage free chicken always tastes better; it's not tough or grainy. The public is getting more comfortable and more educated with this type of meat and it's becoming more of a standard.
Q: Do you have a favorite Trifecta recipe that customers should be on the lookout for?
A: I don't quite have a favorite yet, but I know I'll decide on one soon. What I can really say about the meals is that they're good, well-cooked meals.
The vegetables are properly cooked, not over or undercooked. The proteins aren't dry like you may expect from packaged or frozen meals. There's very good awareness in the kitchen and everyone puts in 100% to make sure the meals exceed expectations.
Tips For Home Cooks
Q: A lot of our clients supplement a meal plan with some at-home cooking. Do you have any tips or tricks for modifying at-home recipes to be healthier?
A: It's really about being creative and adventurous. There are ton of ingredients like vinegar and oil that you can use to your benefit. Try planting fresh herbs at home and using them a little at a time.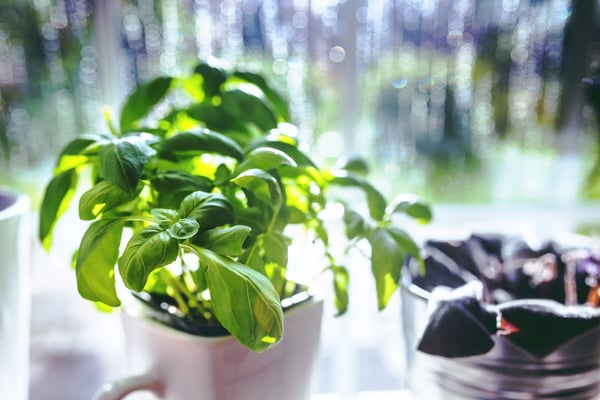 Sub in fresh lemon juice instead of the bottled stuff and see what happens.
Take the opportunity to experiment—if things don't work out, try to understand why. Fail and try again. Through the process, you'll find your own style and own set of recipes.
Q: What are some tips from a professional kitchen that people can use in their own kitchens?
A: Just about anything you love at a restaurant can realistically be created at home. At the end of the day, sautéeing is sautéeing and braising is braising. You can braise something in your home kitchen, even at home in a crockpot.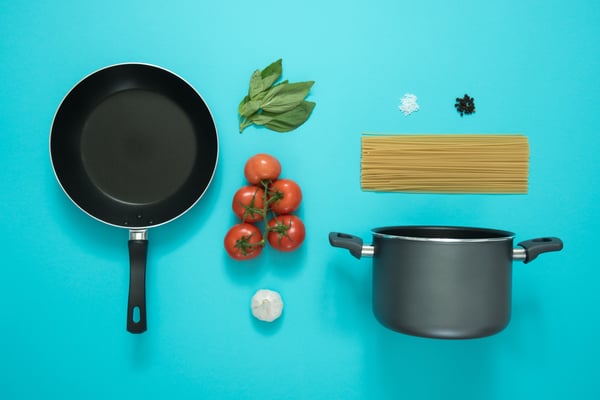 Sous vide products—which you only used to see in professional kitchens—are available to home cooks now and are actually really good. If you take the time to learn, you can learn quite a bit.
A Little About Scott
Q: What kind of food do you like to eat in your regular life? Do you cook dinner for yourself or meal prep?
A: I cook all the time and usually stick to the basics. I have a five year old daughter, so I want her to know the difference between what's good or not. But I also keep her palate in mind. Barbecue, grill, homemade guac. Pico, ceviche. Just good, easy stuff to nibble on while hanging around the pool.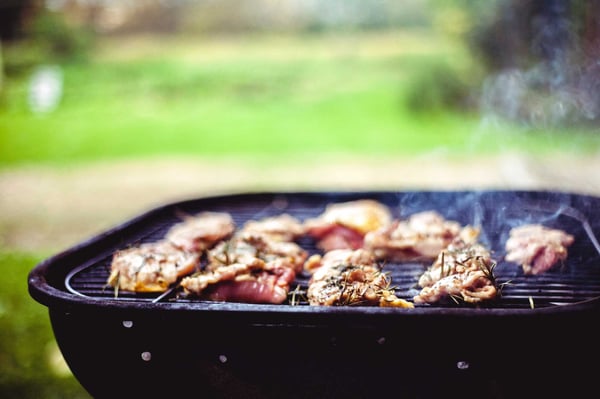 Q: From learning a bit about you, I understand healthy food is kind of what you've always done. Is that aspect what drew you to Trifecta?
That's part of it. Working with Trifecta is really similar to the restaurant approach in that it's all about being conscientious. Understanding that fat can come from sources other than butter, for example. You can use avocado oil, avocado. These options are better for you and still substantially filling.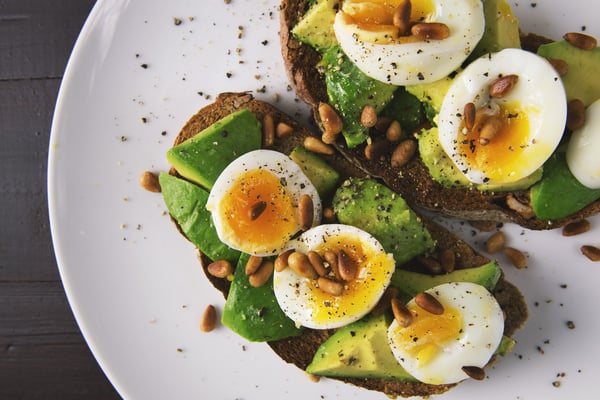 The way I cook professionally is to make sure we look at the menu as a whole. I ask myself if we can change one thing and have it taste better or the same and have it work for someone with a dietary restriction, like Celiac's Disease for example.
The idea of not cutting out anyone or making anyone feel uncomfortable about their dietary needs. That's what drew me to Trifecta.
Try Scott's Recipes For Yourself
Want to get in on chef Scott's exclusive Trifecta recipes? Check out the Clean, Paleo, Vegetarian or Vegan plans. You'll see his recipes in your box each week. Explore more below.