I wanted to start writing this one on a positive note, but there is no other way to say this. I just hate going to commercial gyms. There! I said it! To begin with, I feel they are a big cash grab. And even if you spend truckloads of money, you have to wait in line to use the machine you prefer. While a few gyms maintain their equipment, not everyone does it. So to sum it up, you basically spend lots of money to wait in line and use faulty machines.
That doesn't sound like a good idea, right? Why not make your own home gym instead? Gone are the days when the home gym was considered a luxury. Everything is available at an affordable cost today, and you can make your home gym easily! I am here to tell you how to make your home gym fit perfectly in the space you have. Let's first get started with the budget, because money matters!

Making An Affordable At-Home Gym
A common misconception that everyone has when it comes to home gyms is that it will be very expensive. Many people believe that they need a lot of money to construct a home gym. Well, this is nothing more than a myth. The reason why many people believe this is because of choosing the wrong set of equipment! People end up buying unnecessary cardio equipment and multi-gyms that are not fit in a home gym.
The next thing you have to remember is that specialist products, which are very shiny and attractive, are overpriced and serve no special purpose. If you are looking to cut down your home gym expense to half, you can always find used gym equipment on e-tailers like eBay. You can pick up any equipment and pay less than half of its original price. There are many people who have overloaded their home gyms and then sell them online as they barely use them.
The most important thing to remember when it comes to constructing a home gym is that you cannot fully furnish the gym in one sitting. It needs to evolve in time. Get started with the basics and then go for upgrades as and when you need them. Before you move forward, read this article on Garage gym planner, a fitness site to get better ideas about home gyms.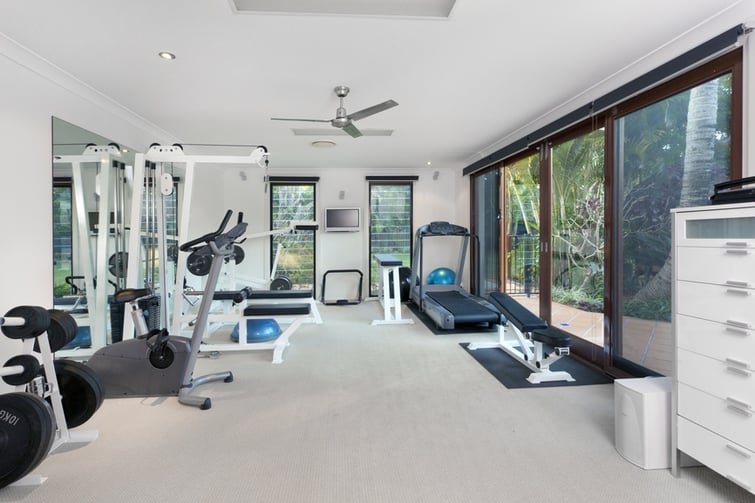 Creating The Atmosphere
1) Space
Pick the biggest room in your house for constructing your home gym. If it is already occupied, the next best place is your garage. Most of us have one car, and hence there is a lot of room left in the garage. You can even use up a spare room or a back porch. In other words, do not pick a cramped room as it cramps the motivation.
If you cannot find a spare room, you can always move the furniture and create room while working out. The dining room is a good choice as you can push the dining table and have enough space to exercise. Never work out in a room with shelves as they can distract you and moreover, they also make the space small. A room with a big window or preferably a French window is an excellent choice as it allows a lot of sunlight to flow in.
Paint the room white as this gives the space a clean and clear feel. You can choose any light shade which reflects light. Dark, gloomy shades absorb light and also make you lazy. Various studies show that the color white has a huge impact on your mood as well as your motivation. You will feel very energetic when you work out in a room painted white.
2) Lighting
Lighting is closely tied to our natural cycles of sleep and alertness. Sunlight, in particular, can boost your energy level even after a long tiring day. A room with large windows and sunlight pouring in is considered as the best place. If you are going to use your garage or basement for working out, you can opt for artificial lights instead. Go with white light bulbs which can lite your place bright. Never opt for gloomy lights as they will put down your motivation.
3) Flooring
A home gym is not only about machinery but also about having the right flooring. Though you won't be moving around the equipment often, you still have to make sure the floor is good. You will need the help of gravity to perform compound exercises like bicycle crunches and rotational lunges. Make sure your gym is laid down with shock absorbing material like rubber mats, interlocking foam tiles and even the bark of cork trees. The right flooring will protect you from injury and also make sure that your equipment is safe.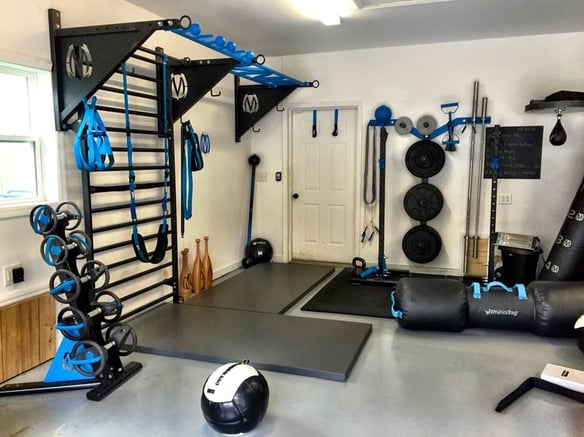 Getting The Right Equipment
Onto the most important aspect concerning home gyms, equipment! Here are a few important pieces of equipment that your home gym should have!
1) Barbell And Plate Set
The foundation of all your workouts is the barbell and plate set. Cardio does come with a lot of benefits, but nothing can beat strength training. You can perform a vast array of exercises like front squats, back squats, deadlifts, power cleans, bench presses, neck presses, and bicep curls. If you are willing to burn your pocket a little you can buy professional bumper plates which are rubber coated.
2) Pull-Up Bar
The most affordable and least space-consuming equipment is the pull-up bar. You just need a door frame to install it. Every time you pass through that door, you will feel guilty if you don't use it often. You can use it for pull-ups and chin-ups.
3) Cardio Equipment
Exercise bikes are very useful in helping you get into shape. The mini exercise bike is very compact and is the perfect fit for your home gym. If you are a fan of elliptical training, the mini elliptical will come in handy. It is one of the best exercise machines for a small space.
4) Ab Wheel
The best equipment to work your abs is the ab wheeler. It is compact enough to fit into any corner. In addition to working your abs, it also gives your arms and legs a good workout.
5) Adjustable Kettlebells Or Dumbbells
Kettlebells and dumbbells are a great way to get a good workout. There are many adjustable dumbbells and kettlebells available which do not take up a lot of space and can be used for a variety of exercises.
In addition to these, other pieces of equipment you can buy are exercise balls, foam rollers, yoga mats, and resistance bands.
Ready To Renovate?
A home gym is great for convenience but is not meant for everyone. Some people gain motivation from the environment of a social gym or while working out in groups. Before you go ahead and construct a home gym, ask yourself if it's the right choice for you.
Also, if you would love some direction on workouts you can do at home or at the gym, check out the Trifecta app, built with daily workouts for all different fitness levels!