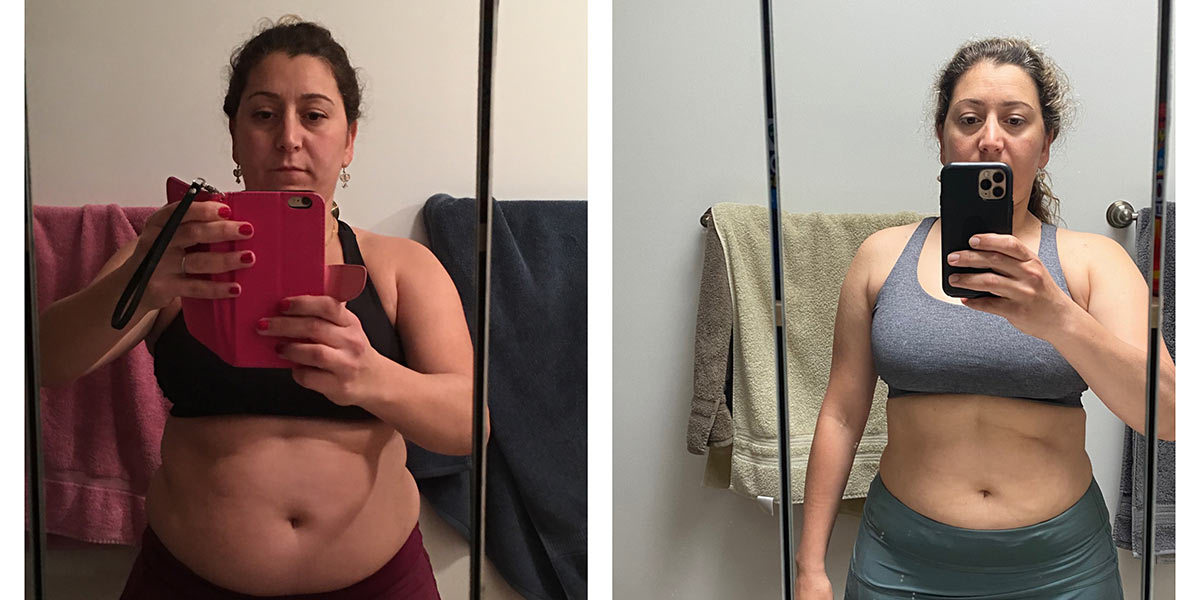 When Yasmin gave birth to her first child, she was faced with a question she'd never considered. How do you get back to your prenatal shape when you've never had less time in your life to do it? Being a busy working mom meant Yasmin needed support to help her regain her fitness. She turned to Trifecta for a healthy diet that saves her tons of time.
Meet Yasmin
Yasmin is a tennis professional and coach in Kalamazoo, MI. While her first passion is tennis, Yasmin is a very outdoorsy person and enjoys biking, walking and yoga. Yasmin is a mother with a three year old daughter and a teenage stepson.
Yasmin's been coaching tennis for twenty years and coaches everyone from 3 year olds, her daughter's age, to 85 year olds. Her job is physically demanding and requires her to be in good shape to perform.
"I absolutely love it. I'm 38 now and still love it like I started. And losing weight lets me continue to enjoy it even more."
New Child, New Reality
When her daughter was born, Yasmin struggled to lose the baby weight. To make matters worse, taking care of a baby meant less time to plan, shop and meal prep.
"After I had the baby it was really hard to get back my normal weight. I looked into Trifecta ad with my busy life having child, coaching, running around, i have an 18 year old stepson, so it's busy, busy, busy.
"My husband is the one who cooks, but sometimes he doesn't cook the healthiest meals. I would eat and order out a lot."
Eating the foods she was used to has stalled her weight loss and dining out so often was expensive. Yasmin knew that if she wanted her results to change, she needed to change the equation. She more time to spend constructively and the right macros to keep her going.
"I needed healthy, ready to eat meals so i wouldn't be eating junk so i can be healthy and go back to my original body before the baby. Just cooking takes a long time and proper meal prep involves much more than just cooking"
The Value of Nutrition
Between, work, workouts and hobbies, Yasmin is active seven days a week. Even on her "rest days" she does yoga. Exercise was not her problem. Getting the proper nutrition was. Exercise only accounts for 20% of your physique. A full 80% is the responsibility of one's diet.
As a tennis instructor, Yasmin's fitness is as important to her livelihood as it is her lifestyle. Making the investment in herself today means more years enjoying the job she loves.
"I had knee surgery and ever after my knee would bother me, especially being on my feet on the tennis court. And I had no choice but to work. Losing extra pounds really helps with the lateral movements with tennis. I can enjoy the game more and be a better coach to my students."
But the most valuable thing of all for Yasmin is time. With more energy and fewer chores, she can spend more time with her daughter during these fast and formative years of her life.
The Trifecta System
Yasmin has been using Trifecta for five months and is seeing results. She is currently on the clean eating meal plan and loves the recipes and convenience.
"I've lost twenty pounds and still going down! I love seafood so the salmon dishes are favorite. I wish I have known about Trifecta long time ago. I loved that it shipped to my house. I never have to think about how I'm going to get healthy ingredients or what to cook."
"I

wish I have known about Trifecta long time ago. I loved that it shipped to my house."
Not only is she getting the macros she needs to power her weight loss, she's getting meals that match her personal preferences as well.
"I'd tried other meal delivery services but Trifecta is a much healthier choice. I know I'm getting good tasing food but also the right nutrition. And the most important thing for me is Trifecta is pork free. I don't eat pork so being a pork free business made a big difference for me."

Lessons on Motherhood
Yasmin has learned a lot raising a newborn, how little time she has especially. Her advice to other new moms is to not put so much pressure on yourself to do everything when you don't have the hours to do it all. It's guaranteed to lead to frustration and failure.
"Motherhood is really busy and there's going to be a lot of pressure for new mothers to do it all. Especially if you work. Whether you're trying to lose weight or not, it takes a lot to keep up with babies and toddlers and the more fit and energized you are the more you can enjoy with your child. You need the right nutrition to do all that and that's not easy when you're already so busy."
"Having meals you can grab that you know will be healthy takes away a lot of stress and gives you fewer chances to eat junk because it's convenient."
If you're a new mom losing more sleep than pounds, bounce back to your before-baby weight and eat like Yasmin by ordering our Clean Meal plan today!