Look no further than this ultimate vegan breakfast scramble for a high protein meal to start off your day! Made with beyond meat burgers, Trifecta à la carte menu items, and vibrant veggies, this dish brings flavor and macro balance to your morning meal prep. Plus you can easily change up the ingredients to add whatever you have in the fridge!
How to Make this Recipe
For this recipe you're going to need the following:
1-1/2 pound (24 ounces) russet potatoes
2 tablespoons avocado oil
1 yellow onion, diced
1-1/4 cups spinach
1/2 cup cherry tomatoes
1/4 teaspoon minced garlic
1/4 teaspoon smoked paprika
1/2 teaspoon black pepper
1/4 teaspoon salt
1-1/2 tablespoons parsley

Garnishes: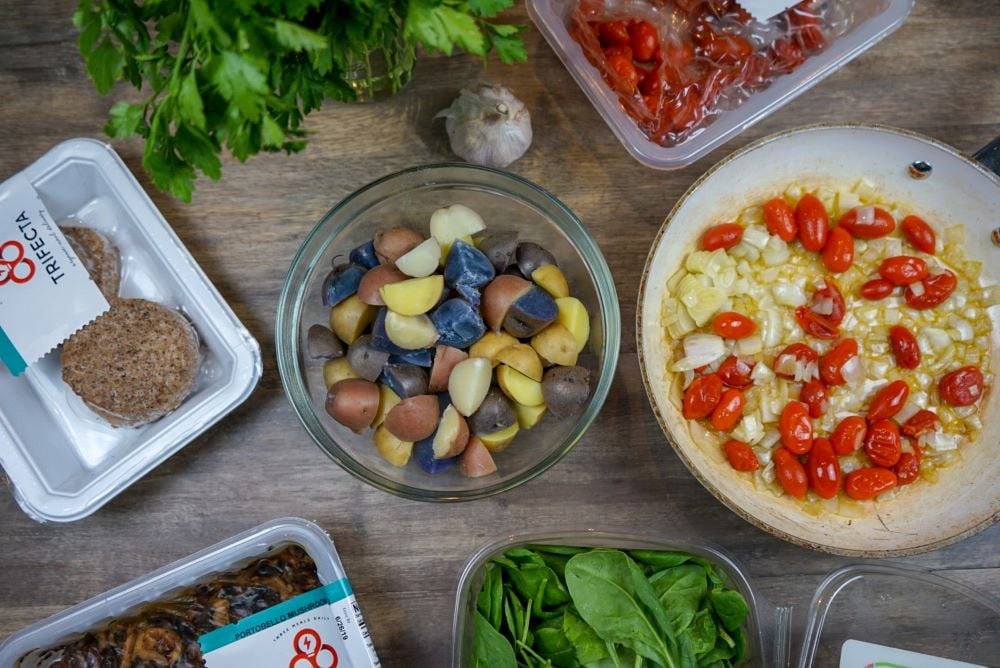 Start by prepping your ingredients:
Dice your potatoes into quarters
Finely chop the yellow onion
Slice the portobello mushrooms and green peppers into smaller, bite-sized pieces
Mince garlic
Chop parsley
Then add a pinch of salt and water to a sauce pan with the quartered potatoes. You should have just enough water to cover the potatoes by about an inch. Bring to a boil and cook until fork tender; roughly 5 to 7 minutes. Then drain the potatoes and set aside.
Tip: Salting the water before boiling brings more flavor to the potatoes.
Heat a large skillet over medium-high heat and add two tablespoons of the oil. Then add in the onions, mushrooms, cherry tomatoes, and green peppers. Season with garlic, paprika, salt and pepper and cook until onions are translucent; about three minutes.
Next add the beyond meat, using a spatula to crumble the patties. Cook for three to five minutes; just enough to incorporate the ingredients together. Remove the mixture from the pan and set aside.
Tip: Cut down on fat by skipping the oil and using cooking spray, lemon juice or vegetable broth instead!
In the same skillet, add the remaining oil and cooked potatoes. Saute over medium-high heat until potatoes have slightly browned. Then add the vegetable and beyond meat mixture and fold in spinach until wilted and flavors have combined.
Serve immediately or portion into meal prep containers for breakfast throughout the week. Top with fresh parsley and lemon wedges when ready to eat!
Meal Prep Tips
This recipe carries well and is easy to reheat in the microwave or on the stop top! To get even more out of your weekly meal prep:
Package fresh garnishes and toppings, like the lemon and herbs, separate until ready to eat.
Use a food scale to portion out each serving evenly.
Store your food in microwave safe containers to cut down on dishes.
Let the food cool a bit before packing up and placing it in the fridge. This will ensure your potatoes stay crispy and don't steam int he container.
Save on cooking time with your favorite vegan recipes using Trifecta a la carte vegan proteins, veggies, and grains.
Serve this With:
The perfect addition to any vegan breakfast skillet would be a tofu scramble!
Add in sautéd firm tofu with salt, pepper, and some turmeric for even more protein.
Serve with melted vegan cheese and freshly chopped green onions.
Top with sliced avocado or guac.
Add some flavor and heat with hot sauce.
Get more recipes like this from Ryan Shepard, the Vegan Rhino.