1. I don't know if I will like the food.
We want you to enjoy what you eat. In fact, our founders created this company because they were probably right where you are—tired of trying to cook healthy meals on top of their busy work and social lives.
Hear from our customers why they love Trifecta and see how their lives were transformed.
The beauty is that Trifecta has different meal plan options to choose from, so there's something for everyone and if you don't like one meal plan, you can always switch to another the following week.
Choose from Paleo, Keto, Vegan, Vegetarian, Whole30, Clean, Classic, or Meal Prep.
You can't know what you don't know, and you really don't have anything to lose thanks to our money-back guarantee. If you're not happy with the meals, we will refund you your money—simple as that.
⭐⭐⭐⭐⭐ "My husband & I have been enjoying Trifecta 7 months now. We are surprised & amazed at how yummy the meals are, how much better we feel eating so clean & healthy, how quick & easy the whole process is."

-Jennifer
2. I think I can lose weight on my own.
While this is true, having a plan, consistency, and support has been proven to increase results and help those results stay around for longer.
Trifecta simplifies the process and gives you support every step of the way. From personalized calorie and macro recommendations, nutrition coaching, and an app to track your progress.
Trifecta has helped customers lose over 3 million pounds...(and counting).
⭐⭐⭐⭐⭐ "Excellent meals with great customer service! Have lost over 40 lbs with the help of the Keto meals at Trifecta."

-Jay
3. I don't care about weight loss, but I have other health and fitness goals.
We know that eating healthy and proper nutrition is about so much more than just weight loss.

Muscle gain, general health, and wellness, or tackling comorbidities are other common health goals our customers have found success with.
⭐⭐⭐⭐⭐ "Been training for an Ironman and have had wonderful results with Trifecta. I love the food selection. I recently learned the power of stovetop cooking the food instead of microwaving it which made it taste even better. It's like Blue Apron but ready in 10 minutes. So grateful I found it!"

-Mac
4. I don't want to pay that much.
While budgets can vary drastically, we understand that justifying paying for meal delivery can be tricky.
It may be helpful to consider how much your time is worth and add up how much you are currently spending between groceries, dinners out, and takeout. Your money is probably going faster than you think when you factor in all of your combined food expenses.
That being said, if you want our most cost-effective option, try our meal prep plan, which includes high-quality proteins, carbohydrates, and proteins of your choice—all pre-cooked. You'll still be saving big on time by not having to cook and just having to portion and add desired seasonings yourself.

Having food delivered to your door helps reduce other costs, such as fuel and impulse buying that often happens at the grocery store.
⭐⭐⭐⭐⭐ "I'm glad I signed up for Trifecta! I'm typically trapped on zoom all day working and I've saved hundreds of dollars due to not needing to order delivery multiple times per week. The meals only take 3-5 minutes to prep."

-Lindsay
5. I enjoy cooking on my own sometimes.
While some see cooking as a nuisance or a means to an end, others can enjoy the time they spend cooking.
It can be wind-down time, a creative outlet, or a hobby.
If this is you and you still want to cook some of your own meals, that's great—keep cooking but let us take some of the pressure off!
If you purchase our minimum of 7 meals/week, that still leaves around 14 meals that you can cook from scratch or utilize our meal prep option to assemble meals and add your own seasoning/sauces.
Consider how often you end up opting for takeout or going out to eat because you were working late or your kids had something they needed, making it hard to get dinner done reasonably.
Having even a fraction of your meals prepared and ready so that you don't have to plan for or think about can save you unnecessary stress.
⭐⭐⭐⭐⭐ "I have tried numerous meal prep companies and I have been disappointed way too many times. I actually prefer my own cooking, but with my job, I have come to a point where I have no time to cook anymore. Trifecta is fast and easy. I come home from work and the food it all right there ready to go and it stays fresh through the week. I finally found a company that makes my life easier and tastes good."

-Brooke
6. I want to try it before I commit to a subscription.
If you want to give Trifecta a try before committing to a subscription, you can always place your first order and decide after your first shipment if you want to skip weeks, place your account on hold or cancel.
⭐⭐⭐⭐⭐ "I was a member for about six months and decided to cancel around the holidays. Kate Murphy responded quickly with stating she would hold my account and check back after the holidays. She kept her word and contacted me before another order was sent out. I decided to cancel and she again was very courteous and professional and agreed to cancel for me. The customer service was very easy to work with and if I do go back to using this service it's because I know I can put a hold on my membership or cancel and without any problems."

-Jackie
7. I'm concerned about the quality of the food.
We strive to source quality ingredients, including but not limited to: organically sourced ingredients, quality proteins, and sustainably caught seafood. Our goal is to purchase as much as possible from local, family-run suppliers with sustainable practices.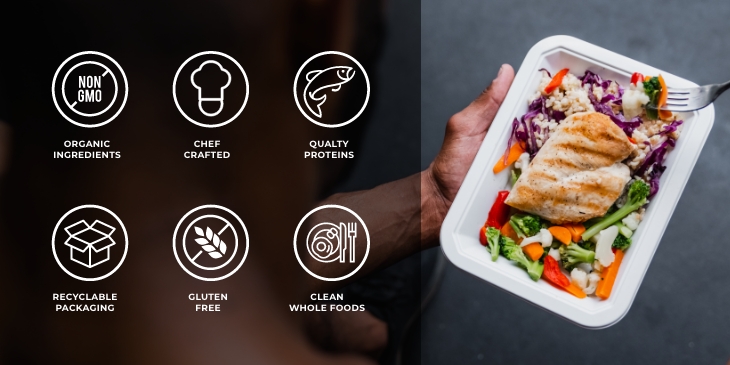 ⭐⭐⭐⭐⭐"Trifecta has been amazing - the food is so darn good. It is amazing to have paleo meals ready to go at our busy house (3 kids, both adults working from home) and we love that Trifecta only sources ethical meats and focuses on sustainability."

-Sean
8. What if I don't like the meal plan I select and I'm stuck with it?
You're not married to a meal plan. You can change your meal plan weekly!
Our subscription is designed to allow variety for our customers. If you're tired of a meal plan or your goals change, you can change your plan accordingly.
A few helpful hints to make sure you're satisfied: be sure to change before the next ship day, but you have the flexibility to switch between all 10 meal plan options that we offer.
⭐⭐⭐⭐⭐ "I have tried a couple of meal services before and so far Trifecta is by far my favorite. Their meals are delicious and I like that you have the option to omit certain foods. I over eat so having the pre portioned meals helps keep my weight maintained. I've lost close to 20 lbs. They have several meal plans to choose from which is nice if you like to switch things up."

-Kenisha
9. What if I don't want to commit to weekly shipments?
We get it, commitment is hard, and your needs and social calendar can change from week to week.

You always have the option to skip, hold or cancel your subscription!
⭐⭐⭐⭐⭐ "If you are struggling to find consistency with your diet and spend way too much $$ on garbage eating, then I would highly recommend Trifecta. Super easy to pause deliveries or change your plan. Trifecta has nailed this service."



-Tobias
10. I think meal delivery is bad for the environment.
Getting a package with ice packs, insulation, and individually wrapped meals may seem like it's racking up your carbon footprint. However, meal delivery can actually be more responsible than shopping at your local grocery store when you take a closer look.

First off, we're cutting out steps in the distribution supply chain. Instead of the traditional route of going farmer→processing → distributor → grocery store → you. Our supply chain starts straight from the farmer → preparation/packing → you. This cuts down on fuel and emissions significantly.

Not only that, it can be difficult to decipher the sourcing of products at a grocery store to determine how sustainable the ingredients you're purchasing are. We do the research for you.

Additionally, the packaging we use is recyclable, the paneling is biodegradable, and we're working towards fully biodegradable packing in 2023.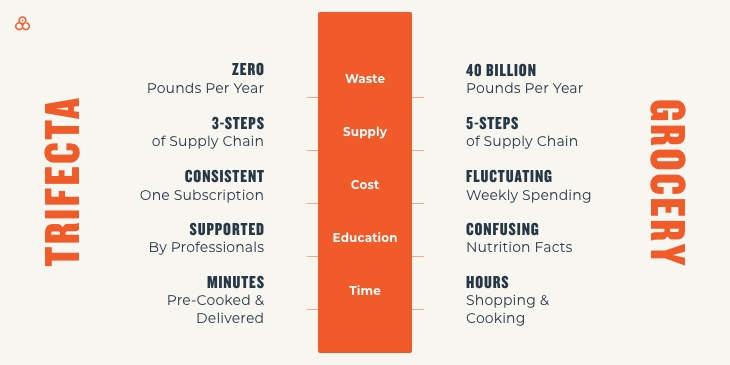 ⭐⭐⭐⭐⭐ "I appreciate how sustainable and recyclable the packaging is. The meals are the perfect size so food doesn't go to waste."

-Kara
11. I feel overwhelmed, and I don't know where to start.

We get it. Even just the thought of wanting to make a major change in your life can seem daunting. But, the simple truth is that it never gets less scary or easier to start.

You just have to do it. There's never a "perfect" time. If you wait until all your ducks are in a row or all the stars are aligned, you probably won't ever start. One thing many love about Trifecta is the free nutrition coaching that's offered with any subscription.
From managing your subscription to helping take actionable steps towards reaching your goals, It's a great way to get the support you need, especially when starting on your health journey.
⭐⭐⭐⭐⭐ "...Emily was incredibly helpful in giving me advice and recommendations to help me reach my goals. She followed up with an email with additional information and articles that related to my situation. I am excited to try this product and grateful for all the support they offer."

-Eunice
12. I have a family and don't want to have to heat up separate meals for everyone.
No one wants to be a short-order cook. So let us introduce you to our meal prep plan.

Our meal prep option includes fully cooked, minimally seasoned proteins, carbohydrates, and veggies—sold in bulk (4 servings per container). All you have to do is assemble/portion your meals and heat them up.
Feel free to add additional ingredients, seasonings, and sauces to provide more variety and flavor, but the hard part is done for you.
⭐⭐⭐⭐⭐ "....As an avid macro counter my family and I were in a terrible meal planning rut. Same thing day in day out and it was causing a lot of food jags. we get the paleo meals for weekday lunches and it so fun to get new meals weekly. We've also been doing the protein ala carts for quick weekday meals. I hate hate cooking fish and their salmon is amazing."

-Adrienne
13. What If I haven't bought yet because I'm going to right now…
If you're looking for a sign to start taking steps to improve your health -- this is it.
You have nothing to lose...except maybe a few pounds.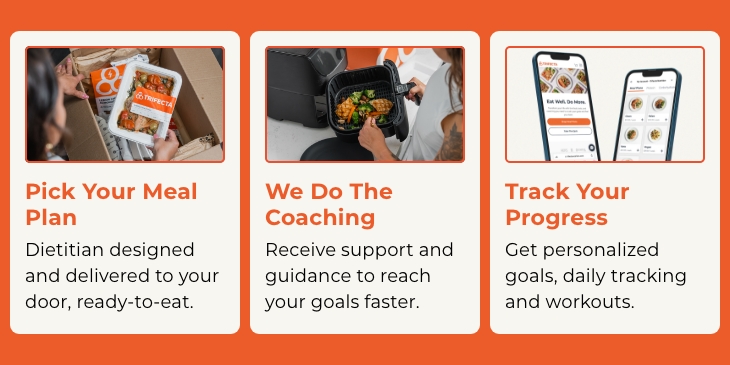 ⭐⭐⭐⭐⭐ "Honestly, such a great company, I couldn't live without Trifecta. The meals are always exciting each time, incredibly healthy & nutritious and taste amazing. I also think the cost is more than reasonable and saves me an absurd amount of time. The team & customer support there are also so friendly (shout out to Emily who's gone out of her way to help me a bunch of times when I've needed help with my orders!)

Couldn't recommend Trifecta enough to folks who live a busy lifestyle and who care about their diet/nutrition."

-Hector