It might seem like you have a ton of control over your diet within your own kitchen. You prepare your own meals; you track everything down to the exact macro. You go into your days with a set plan on what you are going to eat and when you are going to eat it. But what happens when things do not go according to your "plan"? Do you cave and classify everything as a "one time cheat meal" or do you try your best to stay on track even when things get a little hectic?
It can be difficult to get in the habit of eating healthy while eating out but once you get the hang of it, the chances of your diet failing go down significantly. The reality is eating out is significantly different in terms of nutrition than it would be to eat at home, even with very similar types of meals. However there are ways to eat out and still not wreck your entire diet!
THE DIFFERENCE BETWEEN EATING OUT VS EATING IN
You may think that choosing the meal that is the "most similar" to something you would cook at home is your best bet. Usually its a good start but it will not always yield the same nutritional values and may still be really high calorically.
For example, at the Cheesecake Factory the "Lemon Herb Roasted Chicken" that comes with a side of vegetables and mashed potatoes, seems like a pretty healthy choice, right? Chicken, potatoes, veggies. This same meal if you were to cook it at home would probably total in at about 400-500 calories. But at Cheesecake Factory this meal totals up to over 1300 calories! That is JUST the meal. If you add in the complimentary bread (88 calories/2 slices) and a glass of wine (150 calories), you are looking at a meal of over 1500 calories! That is almost three times the amount calories you would get out of the same meal, cooked at home.
Another example of this is going to Applebee's and opting to have the "Oriental Grilled Chicken Salad" instead of the Chicken Wings or Burger you would normally have. You think that because it has the words "salad" and "chicken" in the name, it has to be a healthier option. If made at home, this entree would probably total up to about 400 calories. At Applebee's this salad actually packs MORE calories than their Boneless Chicken Wings, with sauce, AND with ranch dressing as a dip (1090 calories). This salad totals to over 1200 calories with 85 grams of fat, 2300 mg of sodium, and 125mg of cholesterol!
The bottom line is eating out comes with a lot of hidden calories. Restaurants do not cook each and every meal with precise measurements like you would at home. They use a lot of oils, seasonings, and sauces that you simply wouldn't add to your meals at home! These meals come packed with fats, sodium, and usually are very high on the carbs! Which is why it is very hard to actually eat healthy when eating out.
BECOME THE PRO AT EATING OUT
GET TECH SAVVY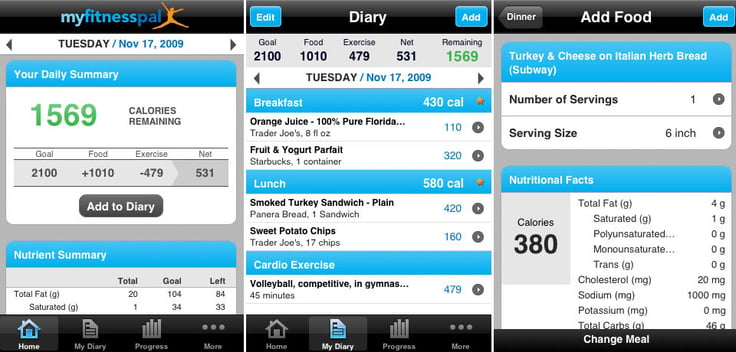 A big step in the right direction is utilizing your resources! We do not live in a day and age where we don't have access to a variety of resources that make our lives much easier. The internet is a very useful tool to utilize when it comes to figuring out the best options to eat while going out. Most restaurants (unless it is a small, local business) have nutritional information online and easily accessible! Also apps like Myfitnesspal have a lot of users constantly adding information even for the smaller, local businesses.
These resources make it easier now then ever before to look ahead at a menu and make decisions based on the actual nutritional value.
BE SMART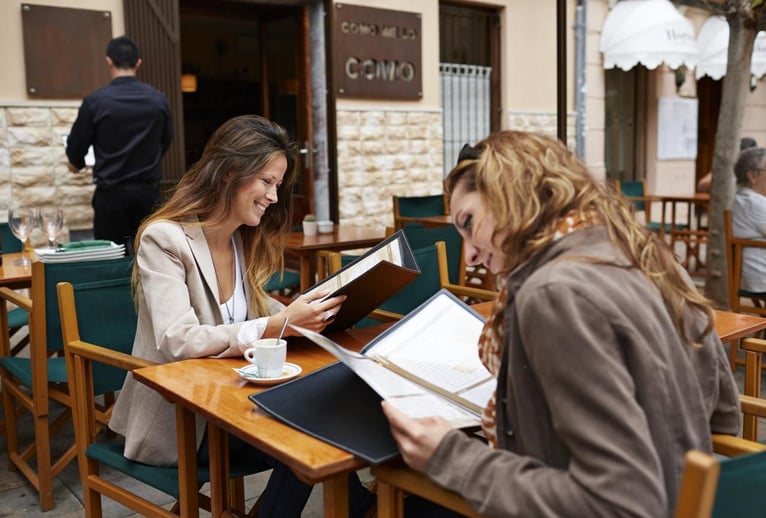 If all else fails or you simply do not have the time to look up the nutrition beforehand, be smart about your decisions! To help you on this we created a chart of the best things to look for while eating out. Tips for Dining Out from our friends over at the RP Diet: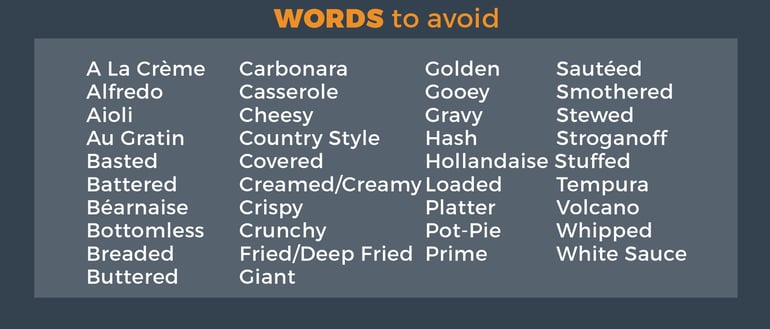 This chart has common adjectives to look out for which usually come with a lot of added fat! Words like "sauteed" "golden" and "prime" aren't often the words that come to mind when we think of unhealthy foods. However they do tend to be packed with added fats, so be careful!
Great words TO choose when eating out are "Baked", "Grilled", "Steamed", and "Light". Traditionally this refers to a much lighter, minimalistic food that simply doesn't have all the added oils, butter, and sodium.
It also helps to get a little picky! Ask the waiter if they have a steamed veggie option instead of the mashed potatoes. Ask the waiter if they add any additional oils to their salmon and if they can hold off on adding anything to the food! Usually restaurants will be more than willing to be as transparent as possible when it comes to the nutritional values and ways the food are cooked. If they aren't, that probably isn't a good sign for the way these foods are being cooked.
HEALTHY OPTIONS FOR RESTAURANTS
Restaurant Tip: It's really important to not put a "one size fits all" mold on a restaurant! While some places seem like definite "off-limits" type of restaurants, a lot of places can really surprise you with some healthier options. The best way to succeed long term with your healthier lifestyle is to realize that most places do have healthier options and you can actually find something to eat at most restaurants.
Adaptability is key to any big change and may be a very valuable tool for you on your way to success! Do not label entire places as "off limits" but also be careful not to mask a place that serves healthy options as a "healthy place". Most restaurants will not serve only "unhealthy" foods. This almost means to pay special attention to the restaurants you classify as "healthy" eating establishments because often times those foods are not any better for you, calorically, than McDonalds.
Chipotle Mexican Grill
Try to stick with a Salad or Bowl. Start with either Lettuce or Brown Rice (bowl usually is an additional 210 calories for rice). Then add either type of beans, fajita veggies (ask for extra if you'd like), meat of your choice (healthiest are chicken, sofritas, and steak). Top with any of the salsas & enjoy!
Little known fact: at Chipotle you can ask for extras on EVERYTHING but the meat and veggies for FREE! Yes thats exciting but be careful not to ask for extras on the higher calorie items like rice & beans. Ask for extras on the veggies, salsas and lettuce! These items are very low calorically.
For the bowl: About 545 calories if you stick to rice, beans, veggies, meat and salsas.
For the salad: About 375 calories if you stick to lettuce, beans, veggies, meat and salsas.
And if you really need the guac it is an additional 230 calories.
The Cheesecake Factory
Lucky for you Cheesecake Factory actually has a "Skinnylicous" Menu on their regular menu which gives you the calories for each item upfront. These options are all a relatively good choice in terms of not offsetting your diet however there may be meals that cater more individually to your diet based on the macronutrient values. A great meal for example is the Skinnylicious Grilled Chicken, which carries about 560 calories with only 2 grams of fat!
They also have smaller plates, appetizers and cocktails under this menu so you can cater your meal to your goals however you'd like!
Starbucks
For that breakfast or lunch you have on the fly, Starbucks can be a surprisingly good place to get a decently healthy option! For beverages, avoid Frappachinos, anything with added sugars and ask for Sugar Free syrups, low fat milk/ almond milk/ soy milk for the healthiest options.
For breakfast:
Reduced Fat Turkey Bacon Breakfast Sandwich = 230 calories
Hearty Blueberry Oatmeal = 220 calories
Spinach & Feta Breakfast Wrap= 290 calories
Greek Yogurt Parfait = 270 calories
For Lunch:
Chicken & Black Bean Salad Bowl = 360 calories
Ham & Swiss Panini = 380 calories
Snacks:
Fruit Cup = 90 calories
Banana = 88 calories
Buttery Popcorn = 150 calories
BJ's Brewery
BJ's also has a "lower calorie" menu entitled the Enlightened Menu. They have a good selection of entrees and salads to choose from!
Enlightened Seared Ahi Tuna = 540 calories
Cherry Chipotle Glazed Salmon = 590 calories
Taco Bell
Again, a lot of places develop a negative reputation in terms of "health benefits" and it is important to look beyond these reputations and look at the food! Taco Bell has actually been named one of the healthiest fast food establishments in recent years. They have created a healthier, high protein line of items which can make for a great on-the-go meal!
Power Menu Bowl- Chicken = 480 calories
Power Menu Burrito- Steak = 460 calories
Side of Black Beans & Rice = 180 calories
Panera Bread
Breakfast
Turkey Sausage, Egg White, Spinach Breakfast Sandwich = 390 calories
Avocado, Egg White, Spinach Power Breakfast = 410 calories
Lunch
Half Mediterranean Veggie Sandwich on Tomato Basil/ Half Asian Sesame Chicken = 480 calories
Mediterranean & Quinoa Salad with Almonds = 460 calories
McDonald's
Just to further prove this point, we provided some healthier options from McDonalds, one of the most recognized companies in the nation for their "unhealthy foods."
Breakfast
Egg White Delight = 250 calories
Fruit n' Yogurt Parfait = 150 calories
Lunch
Artisan Grilled Chicken Sandwich- 350 calories
Hamburger- 250 calories
Sides
Side salad- 15 calories
Apple slices- 15 calories
THE BOTTOM LINE
The main point is that there are a lot of different options for successfully eating out while on a diet. It is extremely valuable to master the concept of eating out while on a diet. If you can successfully do it, you will feel a lot less pressure in social situations. You will feel more in control of yourself. Most importantly, you will not have to give up one aspect of your life for the other. Creating a balance while learning how to adapt to the constant changes in your life will make all the difference.
Share This Story