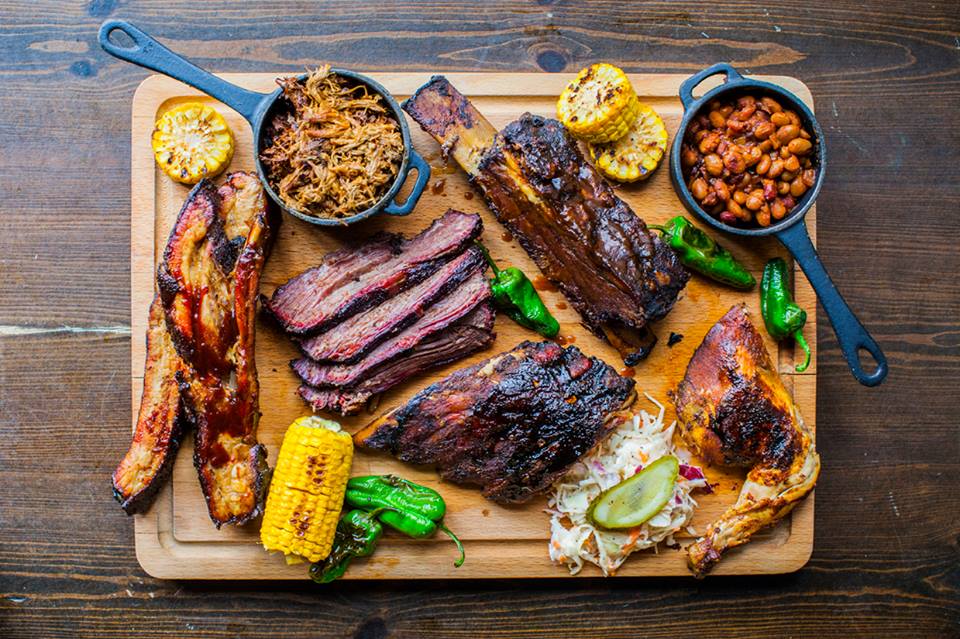 What's summer without a good barbecue...or three. One of the best ways to relax, enjoy the weather, and spend time with family and friends is by having a barbecue! Barbecues can get tricky if you are trying to keep your nutrition game on point. Some way or another, added sauces, extra fat, and of course...dessert, always seem to make their way into a barbecue leaving you with two choices: fruit or a flavorless store bought salad. We decided to add some spicy, flavorful, summer shreds approved recipes to keep your social game high, and your nutrition game higher.
Healthy BBQ Recipes
-The Fixin's-

Mac N' Cheese
Makes 8 Servings
Calories: 228 (P: 13.62g, C:19.37g, F:11.5g)
Ingredients:
12 oz of whole wheat elbow pasta
1 1/2 tbsp of buttery spread
1/4 cup of minced onion
1/4 cup of whole wheat flour
2 cups of skim milk
1 cup of vegetable broth
2 cups of shredded cheddar cheese
1/4 cup of seasoned bread crumbs
First, preheat the oven to 375 degrees and heat a large pot of water with salt to boil. Add in the pasta until pasta is tender and cooked. In a large skillet, add the buttery spread and onion and cook on low heat for a couple of minutes. Stir in the flour and cook for an additional minute. Then, add in the milk and vegetable broth and cook on high for an additional 4-5 minutes. Once cooked, remove from heat and mix in shredded cheese until melted. Pour the melted cheese mix into the cooked and drained pasta bowl and stir until evenly spread. Add the pasta mix to a greased (cooking spray) baking pan. Top with bread crumbs and bake for 17-21 minutes, or until golden on top. Enjoy!

Slaw
Makes 4 Servings
Calories: 128.5 (P: 1.25g, C: 9g, F: 10.5g)
Ingredients:
4 cups of shredded cabbage
1 cup of shredded carrots
4 cups of shredded radishes
1/4 cup of chopped parsley
1/4 cup of white vinegar
3 tbsp of olive oil
2 tsp of honey
salt & pepper
In a large bowl, mix together the base of the slaw (the cabbage, carrots, radishes, and parsley). Then in a small bowl, whisk together the oil, vinegar, and honey. Then mix the sauce with the slaw base and add salt and pepper to taste! Enjoy!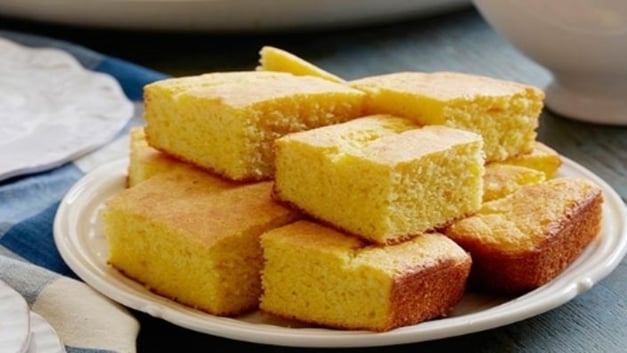 Cornbread
Makes 9 Servings
Calories: 172.44 (P: 4g, C: 24g, F:7g)
Ingredients:
cooking spray
1 1/4 cup of whole wheat flour
3/4 cup of cornmeal
3 tbsp of raw sugar
1/2 tsp of salt
2 tsp of baking powder
1 cup of unsweetened almond milk
1/4 cup of melted coconut oil
1 egg
First, preheat the oven to 400 degrees. Then pull out a baking pan and spray with the cooking spray. In a large bowl, mix the dry ingredients. Then, add in the remaining ingredients and stir until fully mixed. Add to the baking pan and bake for 17-20 minutes, until golden brown. Let cool. Enjoy!
-The Works-

BBQ Chicken Pineapple Kabobs
Makes 4 servings
Calories: 170.5 (P: 13.25g, C: 23g, F: 1.75g)
Ingredients:
2 large chicken breasts
1 1/2 cups of Kinder's California Gold BBQ sauce
pineapple chunks
First, cut the chicken in 2 inch chunks and marinade in BBQ sauce for 2-3 hours. Then cut the pineapple into 2 inch chunks. Using skewers (soak in water before use), thread the chicken and pineapple chunks. Grill kabobs until throughly cooked and lightly add additional BBQ sauce to the skewers to taste. Enjoy!

Pulled Pork
Makes 8 Servings
Calories: 133.5 (P: 23.12g, C: 0.75g F: 4.5g)
Ingredients:
8 boneless pork chops
2 cans of tomato sauce with no sugar added
3 tbsp of onion powder
2 tbsp of garlic powder
1 tbsp cumin
2 tsp of cinnamon
2 tsp of chili powder
1/2 of cayenne pepper
After trimming the fat off of the pork chops, place them in a slow cooker. Add all of the sauces and seasonings to a bowl and mix together. Then, pour the sauce over the pork chops and cook for 6-7 hours or until meat is fully tender and starts to fall apart. Enjoy!
-The Good Stuff-

Sweet Strawberry Pie
Makes 10 Servings
Calories: 115.5 (P: 1.6g, C: 20.3g, F: 3g)
Ingredients:
1 box of Jello sugar free vanilla pudding
1 box of Jello sugar free strawberry gelatin
4 cups of strawberries
1 reduced fat graham cracker pie crust
First, wash and cut the strawberries, placing the cut strawberries in a bowl. Then using a saucepan, make the pudding according to the Jello packaging. Once cooked, add in the strawberry gelatin and sliced strawberries. In a pie pan, spray the pan with cooking spray and place the graham cracker crust down. Let the gelatin/pudding formation cool to room temperature then add to the pie crust. Place the pie in the fridge for 3-5 hours, or until set completely. Enjoy!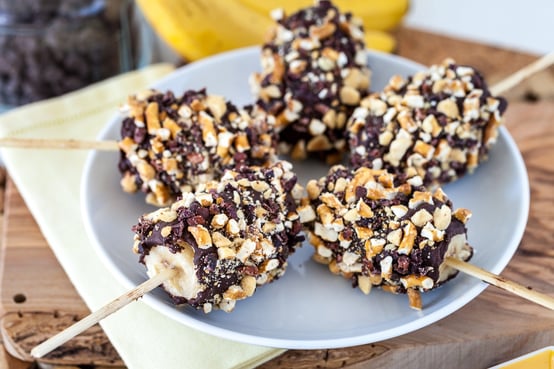 Chocolate Covered Frozen Bananas
Makes 8 Servings
Calories: 124.75 (P: 1.62g, C: 19.2g, F: 5g)
Ingredients:
4 bananas cut in halved crosswise
8 tbsp of chocolate chips
chopped nuts (for toppings)
shaved coconut (for toppings)
First, cut the four bananas in half. Then melt the chocolate chips in the microwave in a bowl. Using popsicle sticks, place each banana half on a stick and dip in the melted chocolate. Top with any topping you desire. Place in the freezer for 3 hours, or until frozen. Enjoy!
For less cooking, check out our A La Carte items: