Makes: 2 Servings
Calories: About 790 Per Serving
Cooking Time: 40 to 45 minutes
---
ABOUT
In this recipe we serve two mouthwatering steaks with veggies sauteed in a red wine reduction sauce. While a heavier meal, it delivers 110% of your protein needs along with over 50% of your vitamin and mineral needs. Dig in!
---
INGREDIENTS
2 steaks, 1-inch thick
½ bunch asparagus, cleaned and hard stems removed
1 tablespoons fresh rosemary, chopped
2 cups sliced button mushrooms
1 cup red wine
2 shallots, chopped
1 garlic clove, minced
1 ½ cups halved cherry tomatoes
1 tablespoon canola oil
2 tablespoons olive oil
Pinch of salt and pepper
---
DIRECTIONS
Cooking Steaks
Preheat oven to 500F. Pat a pinch of salt and pepper into each side of the steaks.
Heat a large iron skillet to high heat and add 1 tablespoon canola oil. See Cooking Tip if you don't have a caste iron skillet.
Place steaks in pan and sear for 1 minutes on each size.
Place pan in oven for 3-5 minutes on each side to desired doneness.
Place steaks on a plates to rest.
Cooking Veggies
Place same pan back on medium heat and add 1 tablespoon olive oil.
Add mushrooms, shallots, garlic, and a pinch of salt and pepper.
Cook until tender, stirring occasionally.
Raise heat to medium-high and add rosemary and asparagus.
Gently add the red wine.
Cover and let simmer for 5 minutes then add tomato halves.
Keep stirring occasionally to reduce the liquids.
Reduce heat to minimum and add last tablespoon of olive oil.
Enjoy!
---
NUTRITION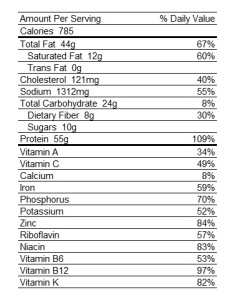 Percent Daily Values (% DV) are based on a 2,000 calorie diet
Nutrition Facts are based off the USDA National Nutrient Database for Standard Reference and nutrition may vary based on methods of preparation, origin and freshness of ingredients, etc.
---
COOKING TIP
If you don't have a cast iron skillet, there are two options to get the best steak:
Place an oven safe pan in the oven while it's heating up. Follow the same steps above but move the steaks from the skillet to the pan instead of sticking the skillet in the oven.
Sear steaks for 2 minutes on each side in skillet. Sear for an additional 4-5 minutes on each side until desired doneness.