Whether you are trying to hit your high protein goals or just keep your hunger in check between meals, high protein snacks are a healthy eating staple.
The tricky part is finding snack options worth your time and dollars. Nearly everything on the market today claims to be "high protein", but is it really? And can those chocolate-covered peanut butter balls really help you with your health and fitness goals?
Learn how to find the highest quality snacks that fit your diet and fitness goals without all the B.S.
We've gathered some of our favorite easy snacks that won't just spike your blood sugar and leave you wanting more like many grab-and-go options out there. These snacks will keep you feeling satisfied between meals.
What are the Benefits of High Protein Snacks?
Protein is a celebrated macro for its positive impacts on muscle gain, fat loss, and fitness.
If you are looking to lose weight, eating more protein can help curb cravings, reduce your appetite, and protect your lean muscle mass while cutting calories.
If you are looking to gain weight, protein can help you gain more muscle than fat and support your strength training workouts.
If you are looking to maintain your weight, protein has been associated with weight management as it's the least likely macro to be stored as fat in a calorie surplus, has positive effects on appetite suppression, and may help keep your sweet (and salty) tooth in check.
But no matter what your fitness goal is, eating high amounts of protein can feel like a challenge, especially if you are new to this style of eating. Opting for protein packed meals is key - with only four ounces of meat or fish at each meal, you can get up to 90 grams of protein a day. You can also meet this with plant based options however your volume of intake will likely be higher.
Eating high protein snacks to help keep you satiated between meals and meet your nutrition needs can be a big help with your wellness goals.
High protein snacks can help you hit your macros and get you from one meal to the next without feeling hungry all day.
What Counts as "High" Protein?
By FDA labeling standards, a good source of protein provides at least 10% of the daily value (standard 50g of protein per day is used) and an excellent source provides 20% or more. Thus any snack that has at least 5 grams of protein per serving can claim it's a good source of protein and any snack with 10 grams of protein per serving or more is high in protein - even if this snack is well over 300 calories per serving.
Yes, a serving of peanut butter will get you 7 grams of protein but it also packs in nearly 200 calories and only has 17% of its calories coming from protein vs. the 76% of its calories that are from fat. While peanut butter is a delicious option, there are plenty of other high protein snacks options out there.
This is why finding high protein snacks goes beyond how many grams of protein are listed on the label. To determine how well your options stack up, pay attention to protein density, meaning protein as a % of total calories and not just protein grams.
The best high protein foods and snacks, contain more protein in them than other macros - meaning they are a better source of protein than they are a source of fat and carbs.
The high protein snacks listed below have at least 8 grams of protein per every 100 calories or, 30% of its calories coming from protein.
What are the Best Protein Sources?
When it comes to pure protein density, nothing can quite compare to animal based sources like meat and dairy. Of course, they aren't your only option.
Plant based and vegan protein sources can also provide a hefty dose of this macronutrient along with beneficial nutrients like fiber, vitamins, and minerals.
Opt for more healthy, minimally processed snacks, made with quality whole food ingredients and natural nutrition. And, double-check the nutrition info for total calories, fat, carbs, sodium, etc. to make sure it matches your overall health needs.
You should also consider using a nutrition tracking app to log your daily food intake. This will give you a lot of insight into where your macros are coming from and how you can improve. Keep in mind portion sizes as well or your snack can quickly become more of a meal.
Ultimately, the best sources of protein are the ones that you enjoy eating and that support your overall health and fitness goals!
What About Supplements?
Most people can meet their protein needs by eating whole foods alone but sometimes opting for protein-fortified foods or supplements can be an easy way to hit your goals. Keep in mind they should serve as a supplement to your diet and definitely not your only source of protein.
Protein bars, shakes, cookies, baked goods, etc. can all be great grab-and-go snack options. Or find a protein powder you enjoy and add it to your favorite recipes. Adding protein powder is a great way to increase your protein in the morning, trying adding to your oats, pancakes, or waffles.
Eating a high protein breakfast has proven to be beneficial for weight loss. Adding protein to your breakfast helps keep you full longer and starts you off on the right track to hit your protein goals.
As for the type - all are great options! Both dairy-based powders like whey and casein as well as plant based powder like pea, soy, and hemp, all provide similar nutrition.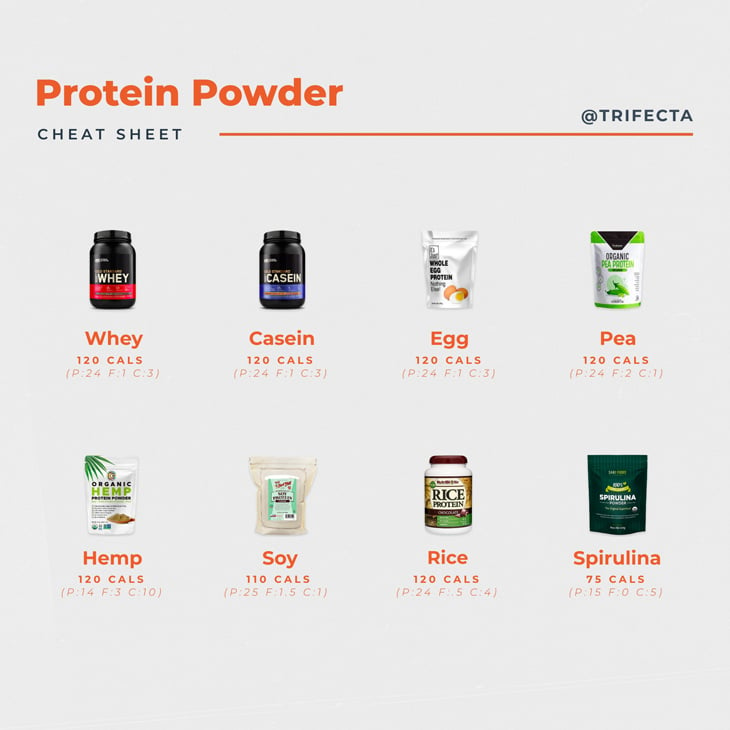 One powder, in particular, casein, may even offer some unique benefits since it is slow absorbing. Having a casein shake as a snack between meals is thought to help keep you even more satisfied and adding it before bed might support muscle growth while you sleep!
If using supplements, just make sure to follow the same nutrition standards as you would for any food and track your intake.
12 Healthy Protein Snack Ideas for Convenience
Build your ultimate list of staple snacks using simple foods you probably already enjoy eating.
Add cottage cheese, yogurt, deli meat, hummus, jerky, tuna, eggs, and edamame to your grocery list. Then, check out these easy grab-and-go snacks that take little time to throw together.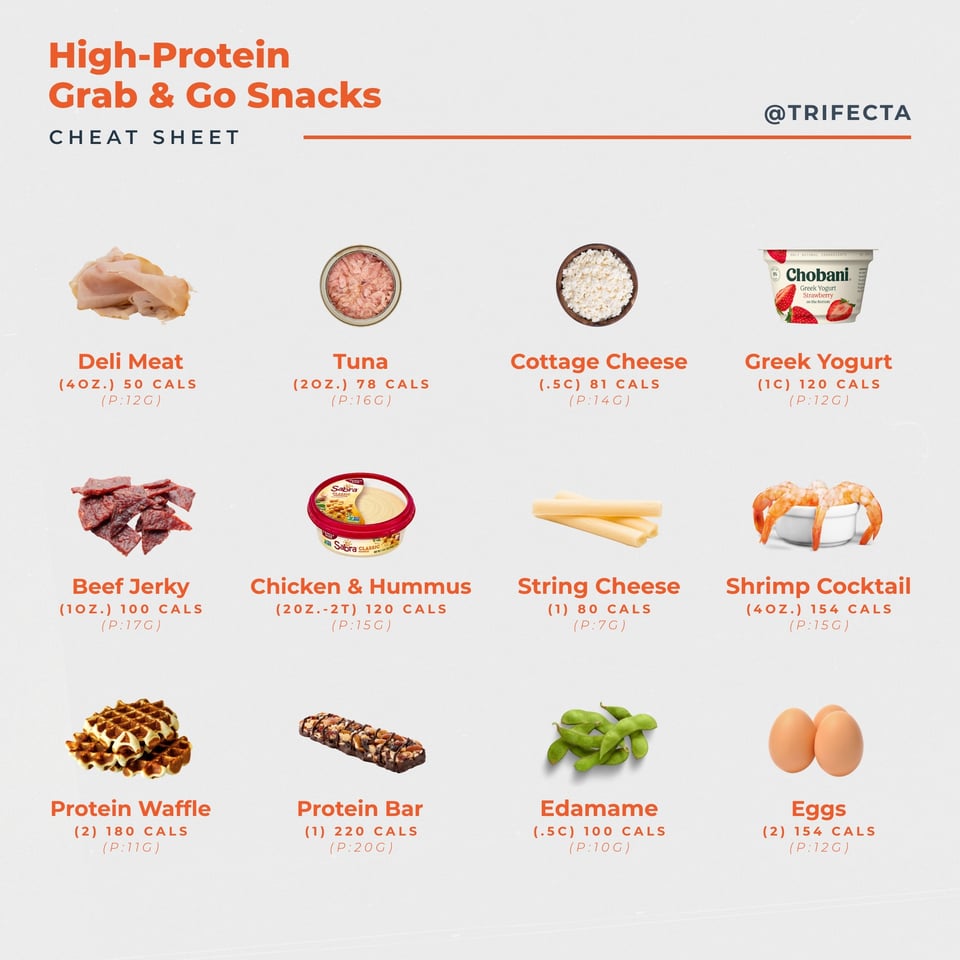 1) Deli Meat
Considering deli meat is really just a cut of meat that's been processed. But some brands can be pumped full of filler ingredients, excess sodium, and higher in fat. So read the ingredients and the nutrition fact labels and look for leaner, less-processed options to get the most of this choice.
Two ounces of roasted turkey deli meat has:
50 calories
0 grams of fat
0 grams of carbs
12 grams of protein
Making lean deli turkey roughly 100% protein!
Pair this with a serving of whole-grain crackers (you'll still get a total of 36% calories from protein) or make deli and cheese roll-ups for 45% of calories from protein.
Prosciutto-wrapped cantaloupe also counts with 150 calories and 16 grams of protein (with 43% of calories from protein) per two-ounce portion of prosciutto.
2) Tuna Pouches
Seasoned tuna pouches are also a great no to limited prep option that come in a variety of flavors like lemon pepper, buffalo sauce, teriyaki, etc. You can eat these as is or pair them with some whole grain chips, veggies, or bread for a great snack option. One typical tuna pouch has:
78 calories
1 gram of fat
0 grams of carbs
16 grams of protein
Providing 82% of calories as protein!
Psst… canned tuna or fresh ahi tuna also works great, add in your own seasoning or try a traditional tuna salad with Greek yogurt for even more protein!
3) Cottage Cheese
Cottage cheese (no matter what percent fat you choose) is a great source of protein that pairs well with just about anything. When snack hour rolls around, enjoy it plain or add in tomatoes and pepper flakes or fresh fruit. One 1/2 cup of 1% fat cottage cheese contains:
81 calories
1 gram of fat
3 grams of carbs
14 grams of protein
With 69% of calories coming from protein!
Dairy is also a source of the hormone insulin growth factor-1 (IGF-1) which has been positively associated with more muscle growth.
4) Greek Yogurt
Similar to cottage cheese, Greek yogurt is an excellent dairy-based option and also pairs well with a lot of different flavors. Make it savory style with a drizzle of olive oil and Mediterranean veggies, or sweeten it up with fresh fruit and honey. One plain, non-fat Greek yogurt (6 ounces) has:
100 calories
0 grams of fat
7 grams of carbs
17 grams of protein
Making it 68% protein!
5) Jerky
No surprise that meat-based snacks like jerky and beef sticks are protein-dense. Just keep an eye out for options that are lower in fat and added sugar. Also, keep an eye out for the appropriate portion sizes. Most lean, grass-fed jerky contains:
120 calories
1 gram of fat
8 grams of carbs
20 grams of protein
Providing 67% protein per one-ounce serving!
6) Chicken & Hummus
Hummus is delicious, but it is not super protein-dense on its own - one serving has 50 calories and only two grams of protein (16% of calories from protein). But when paired with chicken strips for dipping, you've now got a satisfying snack. Two ounces grilled chicken with two tablespoons of hummus has:
112 calories
4 grams of fat
4 grams of carbs
15 grams of protein
With protein making up for 54% of the calories!
7) String Cheese
While cheese can be a source of fat, low-fat cheese is more protein-rich and lower in calories. Look for naturally lean varieties like mozzarella, cheddar, blue cheese, jack, provolone, and Swiss. And for snacking convenience, try individually wrapped slices or string cheese. One light string cheese has:
50 calories
2.5 grams of fat
0 grams of carbs
5 to 7 grams of protein
Giving you roughly 40 to 56% of your calories from protein!
8) Shrimp Cocktail
Shrimp is a naturally lean protein that also works great as a snack. Dip it in pesto sauce, guacamole or cocktail sauce. A serving of Trifecta shrimp dipped in three tablespoons of cocktail sauce has:
136 calories
1 gram of fat
14 grams of carbs
15 grams of protein
Providing 43% of the calories from protein!
9) Protein Waffles
Protein waffles or pancakes are pretty easy to make - just add a scoop of your favorite protein powder to any mix and adjust the liquids as needed, but there are also some quick options available in-store like microwaveable protein muffin cups, pre-made protein waffle mix, and protein cookies.
And yes waffles can make a great snack option. You can make them in advance or on the spot to enjoy plain or with your favorite toppings! Similar to protein bars, keep an eye out for at least 8 grams of protein per every 100 calories (36 to 40% calories from protein).
10) Protein Bars
It's no question many store-bought protein bars are a great on-the-go snack option that requires no cooking and can fit into your pocket. However, a lot of them also have an overwhelming amount of processed sugars and added fats you may not have been looking for.
For the best options, look for other nutritional benefits besides protein, like fiber, vitamins, and minerals, and pay attention to the ingredients list and avoid high amounts of added sugar. The densest protein bars will have at least 8 grams per every 100 calories (36 to 40% calories from protein).
11) Edamame
Soy is not only protein-dense, but it is also a complete protein option that is 100% vegan. For snacking purposes, look for edamame in its pods (typically available in the frozen section of your local store). Then lightly stem or thaw and serve with a sprinkle of salt or whatever seasoning you like. A 1/2 cup portion has:
100 calories
3.5 grams of fat
8 grams of carbs
10 grams of protein
Making this plant-based protein 40% protein!
12) Hard-Boiled Eggs
Hard-boiled eggs are an easy snack that you can get pre-cooked or prep on your own. One hard-boiled egg has:
77 calories
6 grams of fat
0 gram of carbs
6 grams of protein
Because whole eggs are also a source of fat, they only provide 31% of calories from protein.
If you skip the yolk and opt for egg whites, you'll get 94% of the calories as protein (4 grams of protein, 0 grams of fat, and 17 calories).
8 High Protein Snack Recipes Under 150 Calories Per Serving
Want to get a little more gourmet with your snacking? Check out these protein-packed recipes to help you snack your way through the week and definitely hit your macros!
1) Protein Yogurt Parfait
Greek yogurt is an excellent source of protein on its own, but you can add a little extra boost with your favorite protein powder. Sometimes this makes it taste like a pudding which is delicious.
Pair with any fruit or a small amount of granola for crunch and extra flavor.
Cut this recipe in half for a smaller portion or add this to your muscle building diet as a mini-meal. This recipe packs 36 grams of protein per serving (60% of calories).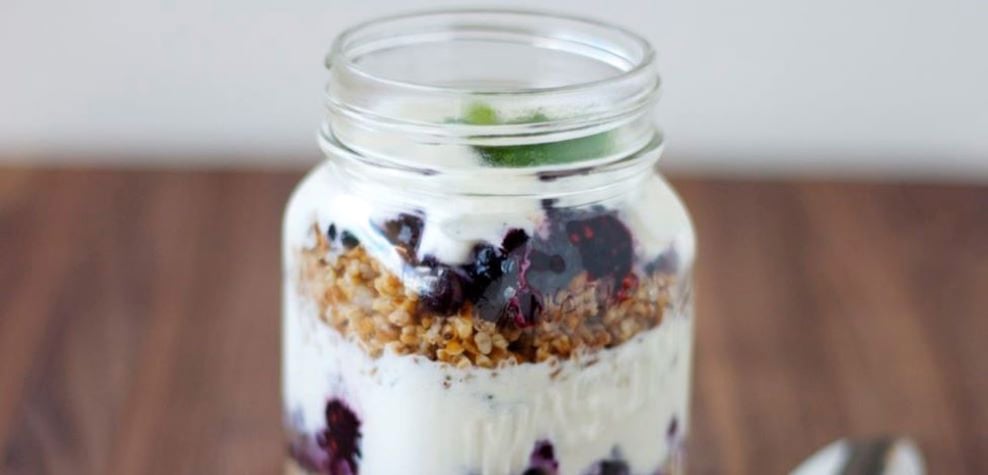 Get the recipe here - Protein Yogurt Parfait
2) Strawberry Watermelon Protein Shake
Shake up your protein drinks with this light and refreshing version that tastes just like a starburst candy. Plus it packs 21 grams per serving (50% of calories). Smoothies are a great snack option that also helps keep you hydrated!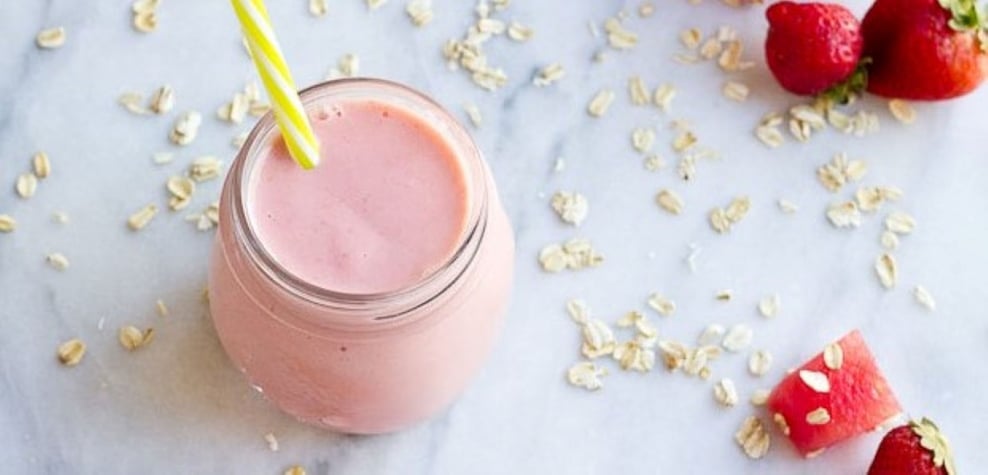 Get the recipe here - Strawberry Watermelon Protein Shake
3) Avocado Egg Salad
Creamy, tangy, and easy to make with Trifecta hard-boiled eggs. This simple and healthy egg salad makes for the perfect high protein snack or main meal, with 18 grams per half-cup serving (49% of calories).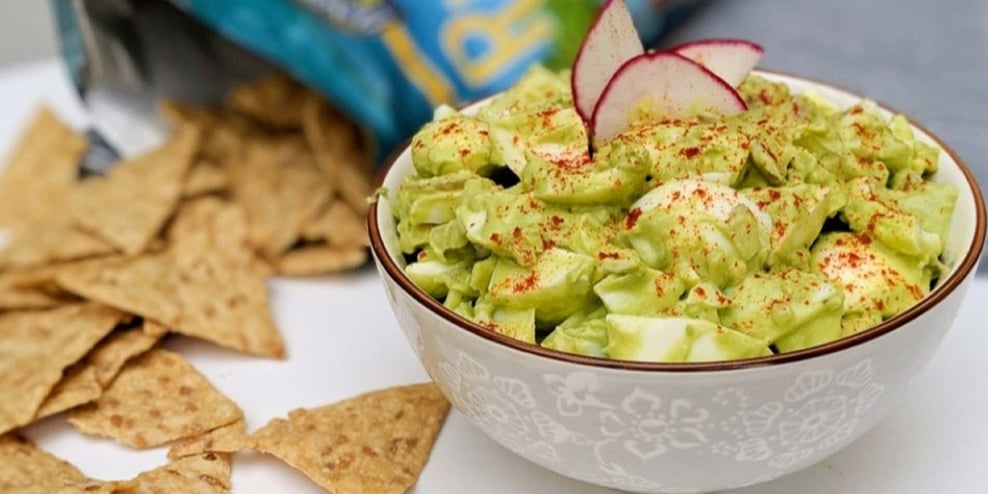 Get the recipe here - Avocado Egg Salad
4) Pesto Egg Toast
Check out this prosciutto, pesto, and egg toast for a drool-worthy snack option. Cut this recipe in half for 14.5 grams per slice (44% of calories).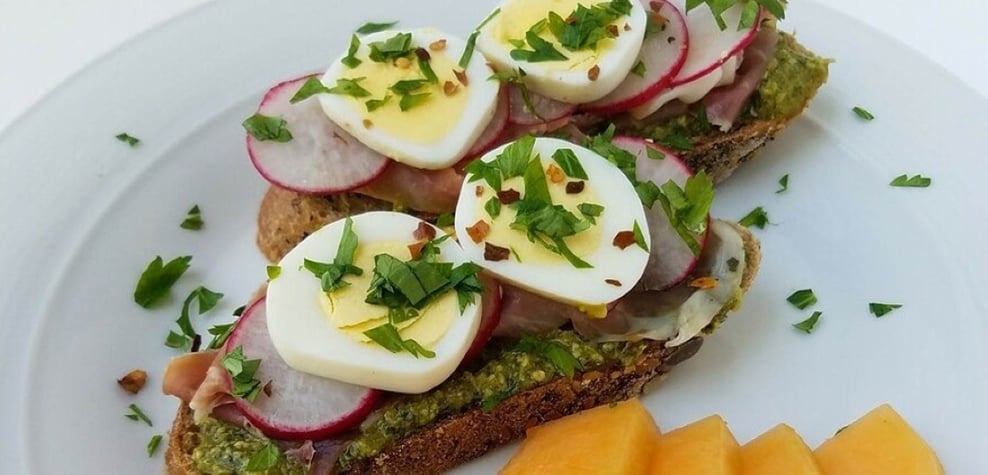 Get the recipe here - Pesto Egg Toast
5) Curried Chicken Salad
Spicy, sweet and hits the pot. Curried chicken salad is the ultimate twist on a traditional staple. Have this as a snack or can serve on whole-grain bread for high protein meal. This recipe has 13 grams per serving (37% of calories).
Get the recipe here - Curried Chicken Salad
6) Ahi Tuna Salad
Add a bit more flavor and creaminess to your tuna salad with avocado and fresh veggies. This recipe works great for portioning throughout the week and has almost nine grams per half-cup serving (34% of calories).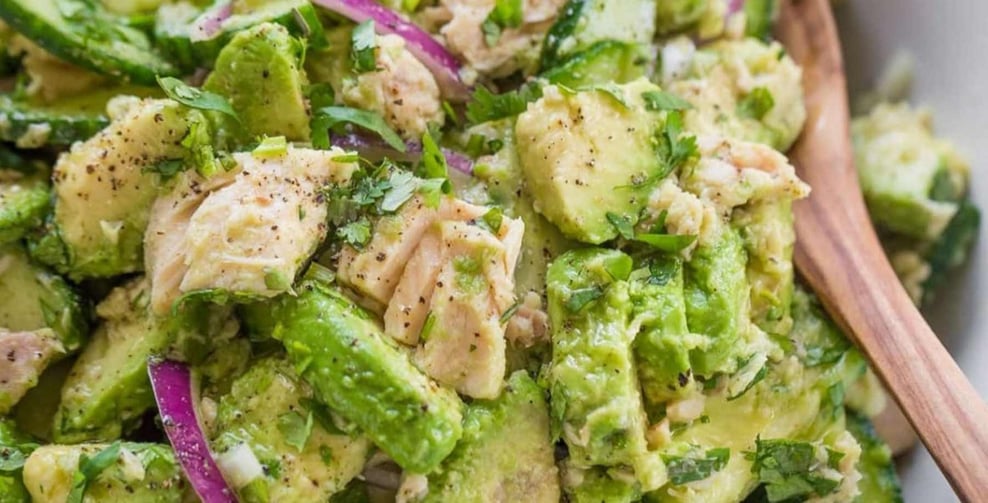 Get the recipe here - The Best Avocado Ahi Tuna Salad
7) Bacon and Guacamole Deviled Eggs
Enjoy a modern twist on a classic recipe by changing up the filling in your hard-boiled eggs. Plus, get more flavor and better macros!
Creamy, savory, and ultra-satisfying! Not to mention, they are perfect for weekly meal prep and a high-protein snack when you're running out the door.
Provides 11 grams per serving (37% of calories).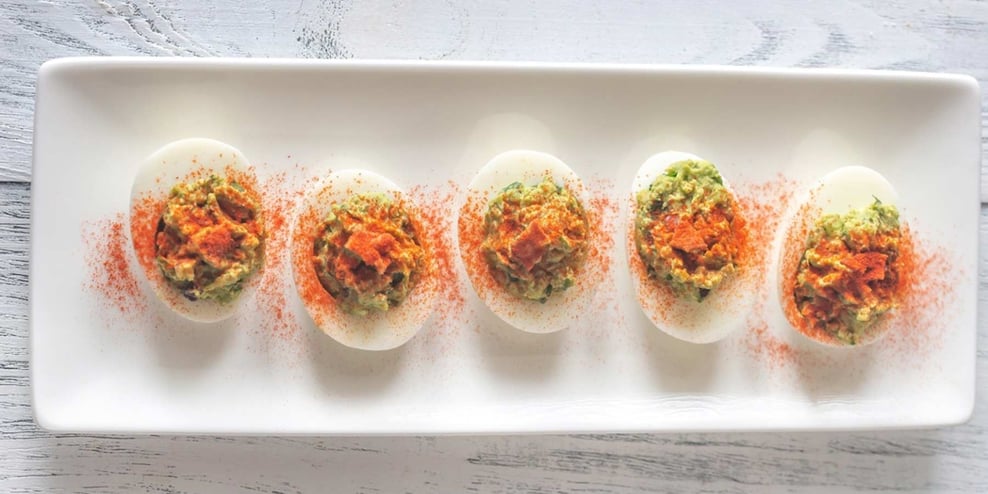 Get the recipe here - Bacon and Guacamole Deviled Eggs
8) Shredded Buffalo Chicken Dip
Spicy and creamy, this uber-rich flavor-packed dip will have you second-guessing the low calories and perfect macros.
It's also crazy easy to make and portion out for guilt-free snacking all week long.
Provides 12 grams per serving (35% of calories).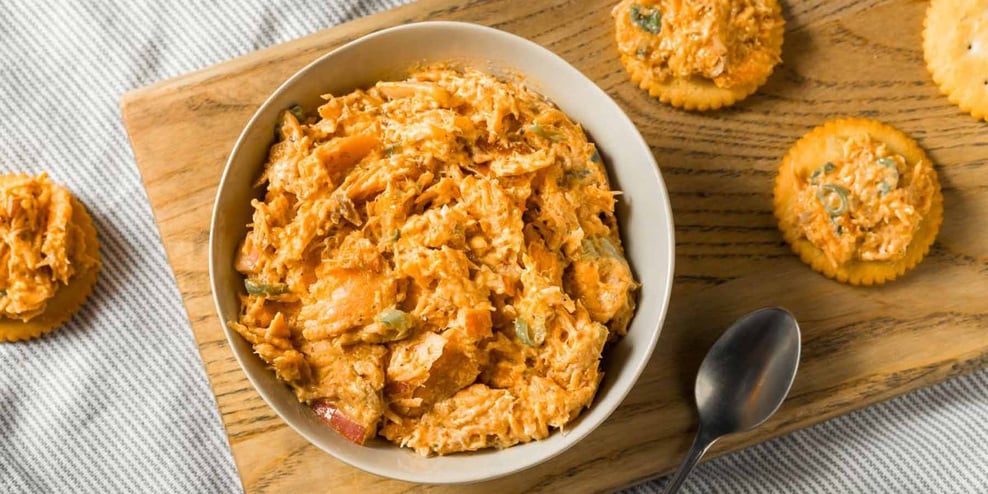 Get the recipe here - Shredded Buffalo Chicken Dip
How Much Protein Should I Be Eating?
Your daily protein needs are based on your existing muscle mass, weight loss and fitness goals, and how often/hard you are working out. In simplest terms, the more muscle you have and the more you use your muscles, the more protein you need in your diet.
The Recommended Dietary Allowance (RDA) is 0.8 grams of protein per kilogram of body weight. This is not the recommended amount but the minimum amount required to prevent health risks.
While it's difficult to "overdue" it on protein, it can be a challenge to make sure you are getting enough for proper bodily functioning including building and repairing cells and muscles.
Find out how much you need with our protein calculator.
Once you calculate your protein needs you can use a calorie tracking app to start tracking your intake to see if you're hitting your protein needs.
In addition - it can be beneficial to space out your protein intake throughout the day and include plenty of high protein snacks or mini-meals. For those looking to eat more protein, this can take some thought and planning.
Need help getting more protein into your day? Save time and money on meal prep with our ready-to-eat, macro balanced meal plans that are high in protein and designed to help you get results.