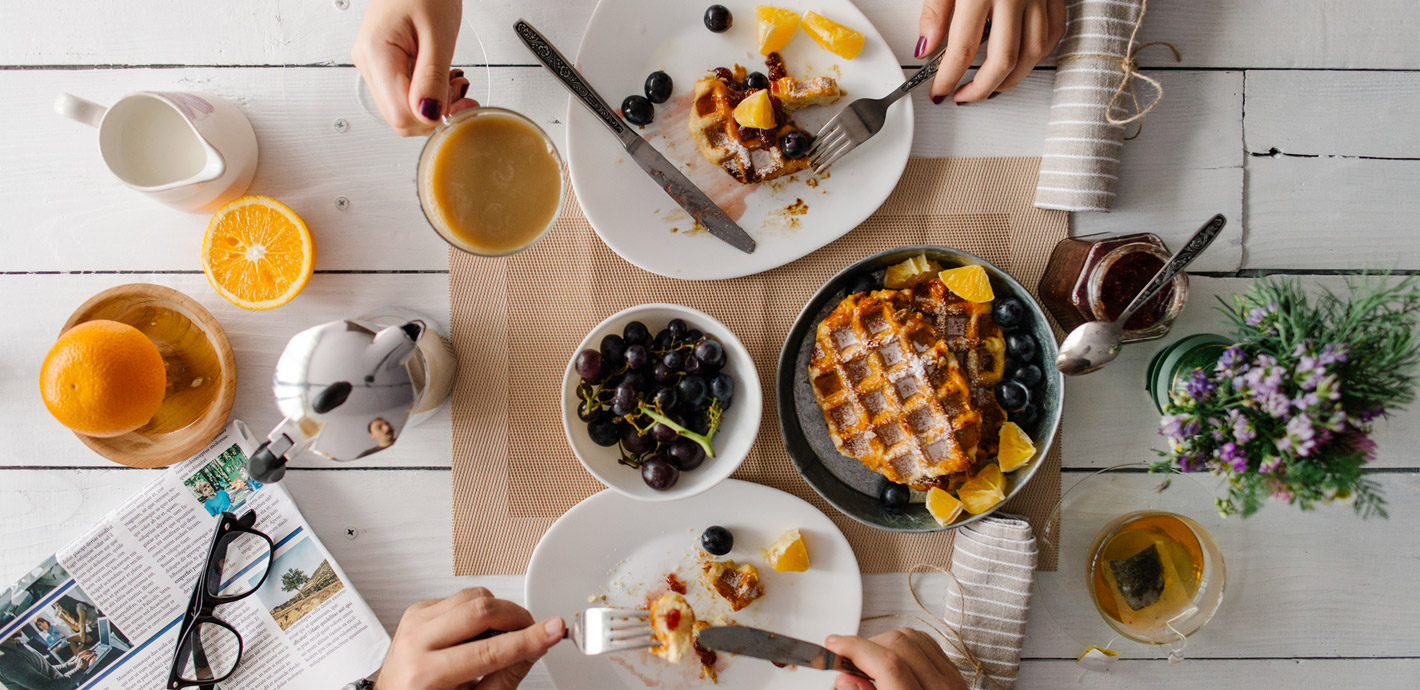 The weekends are a time to recover from a long week of hard training and busy schedules. But how often are your weekends going a little "too" overboard? Going out Friday night and turning that into a Saturday brunch filled with bloody mary's and mimosas? Yeah, we know it's tempting. Sometimes those social events just call your name after a tough week of hard work and discipline. But those two days a week can really wreck an entire diet. Just the brunch part of the equation can easily end up costing you about 1,000 calories WITHOUT the alcohol.
So skip the lines at the local boozy brunch spot and host a brunch at your place for a change! This way you can keep your calories in check by knowing what you are consuming while still having a great time with family and friends!
Breakfast Stuffed Sweet Potatoes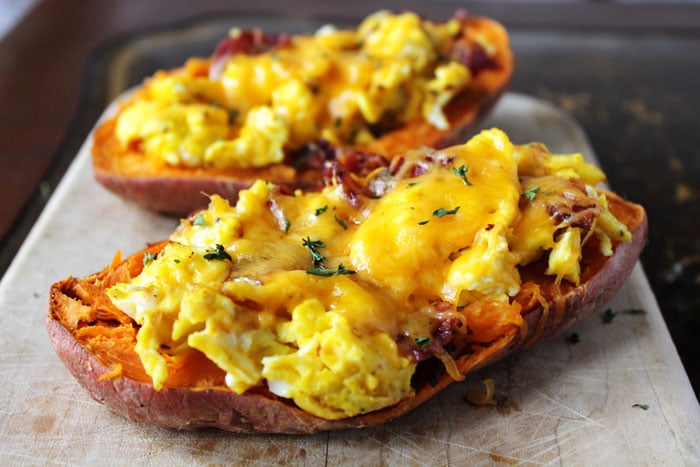 Makes 2 Sweet Potato Boats
Calories per boat: 249 calories (Carbs: 24.5g, Proteins: 18.5g, Fats: 7.5g)
1 sweet potato
2 whole eggs/2 egg whites
2 slices of turkey bacon
1 oz of low-fat cheese
Wash the sweet potato and pierce it with a fork. Microwave until tender, make sure to flip the potato over halfway through. Pan fry the turkey bacon in the mean time. Then, scramble one egg and one egg white on a skillet for each boat. When the potato is ready to cut into, cut in half. Scoop out about half of the potato from each half. Fill each half of the potatoes with eggs, turkey bacon crumbles, and top with cheese. Either microwave the boats for 30 seconds, until the cheese is melted. Or, broil the potatoes in the oven for a few minutes to melt the cheese. ENJOY!
Blueberry Banana Pancakes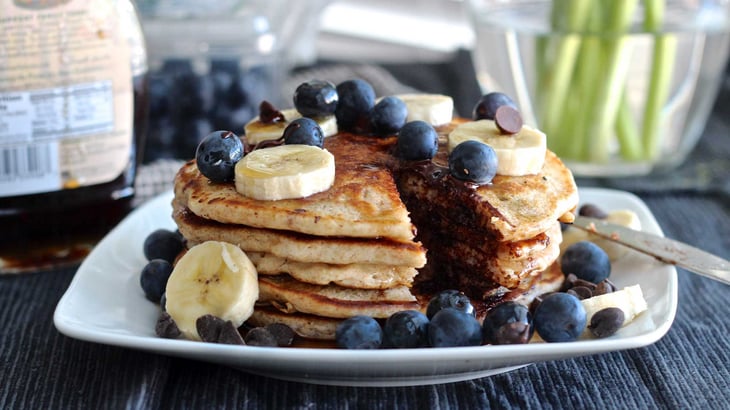 Makes 1 serving (about 6-7 pancakes)
Calories: 291 (Carbs: 50g, Protein: 18g, Fats: 4g)
1/4 cup of plain greek yogurt
1/2 medium ripe banana
1/2 cup of rolled oats
2 egg whites
1-2 tbsp of unsweetened almond milk
1/2 tsp baking powder
1/2 tsp vanilla extract
1/4 cup of blueberries
Preheat a skillet over medium and coat it with cooking spray. Add all the ingredients (except the blueberries) into a blender and blend on high until the oats are fully smoothed out. After the batter is smooth, add the blueberries and lightly mix them into the batter with a spoon. Pour the batter directly onto the skillet from the blender until the desired size of pancake is reached. Cook until the edges are crisp and the pancake starts to boil, then flip and cook for another couple of minutes. Make sure to add cooking spray to the pan in between each pancake! Top with desired toppings!
Healthy Breakfast Tacos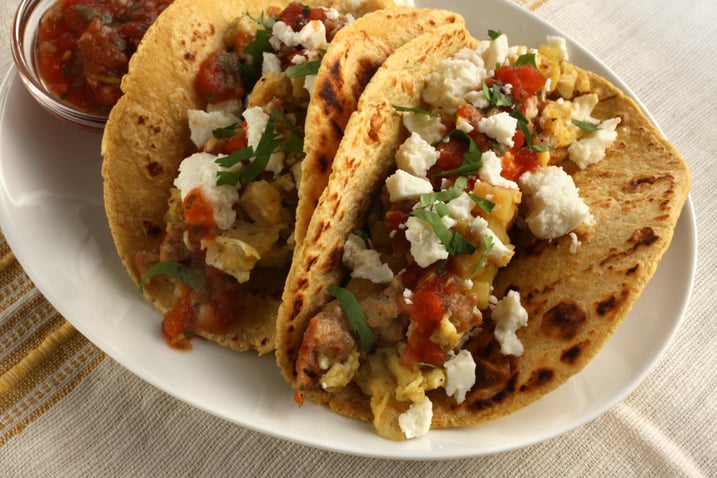 About 4 servings (2 tacos per serving)
Calories per serving: 398 (Carbs: 28g, Protein: 21g, Fats: 22g)
8 large eggs
1/3 cup of skim milk
1 small yellow onion cut into strips
2 small bell peppers
8 slices of turkey bacon (crumbled after cooking)
8 small corn tortillas
2 medium avocados
In a mixing bowl, whisk the eggs and milk together. Heat a large skillet on medium-high. Cook the turkey bacon first, once cooked take off the pan and crumble into a bowl. Then cook the onions and bell peppers in the pan until lightly brown. Take out of the pan and place on a plate. Lastly cook the egg mix in the skillet until done.
Then cut the avocados into slices. And warm the corn tortillas. Serve with each of the made ingredients and top with salsa or any topping of your choice!
Healthy Stuffed French Toast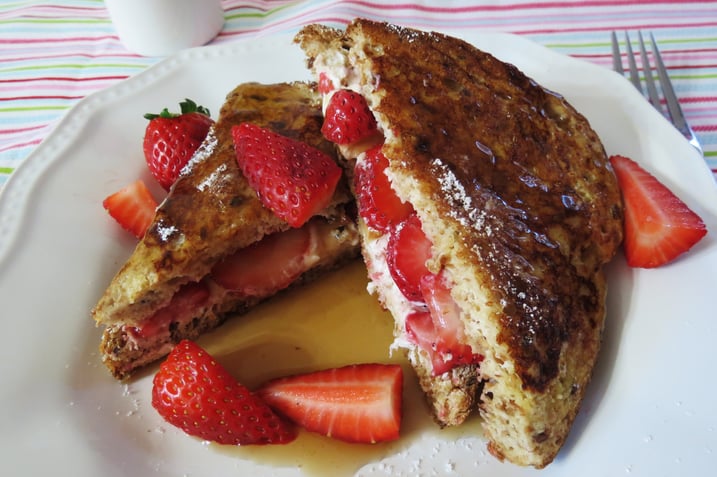 Serves 4 (2 half pieces of bread per serving)
Calories per serving: 276 (Carbs: 43.25g, Protein: 12.25g, Fats: 7.5g)
4 tbsp of low fat cream cheese
2 eggs
1 tbsp of honey
1/4 cup of skim milk
1 tbsp of sweetener
1 tbsp of cinnamon
8 strawberries
8 slices of whole wheat bread
2 teaspoons of olive oil
First, make the filling by mixing the cream cheese and honey and set aside. In a shallow dish whisk the eggs and milk. On a large plate combine 1/2 tbsp of sweetener and 1/2 tsp of cinnamon. Heat a skillet with 1/2 tsp of olive oil. To make the french toast, take a slice of bread, add 1/4 of the cream cheese spread and then add sliced strawberries to the top. Then cover that with a second piece of bread. Coat both sides of the french toast with egg mixture and then top with the cinnamon coating.
Pan fry the french toast in a skillet over medium heat until golden. Continue the same way with the rest of the bread. Cut the french toast pieces in half and serve with whatever toppings you please!
For Quicker Ways to Create These Meals, Check out our A La Carte items!